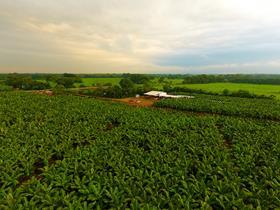 A new study from the University of California Davis evaluating the impact of Ecuadorean banana production upholds the sector's claims that it is economically and socially sustainable.
The 18-month investigation, which was funded by producers and exporters and presented by the Regional Banana Corporation of Ecuador (Agroban) this week, focused on the social, political, financial and environmental aspects of production.
Leónidas Estrada, president of Agroban, explained that there were two key components to the study: the first was a review of the information published by state and international institutions and the second consisted of field work in the form of surveys conducted in 450 farms of different sizes, ranging from those of more than 50ha and those with less than 30ha.
The results show that 70 per cent of farms were free from child labour, provided healthcare for employees and a competitive salary.
"One of the criteria for supplying the European market today is that workers are paid a living wage," Estrada said.
The study also highlights the fewer chemical inputs are used in Ecuador than in other producing countries thanks to its climate and geographical location.
Producer and former Agroban president Gustavo Marún said the favourable results of the report paves the way for other studies to be carried out.
"I think we are on the right track, this is an example of what we can achieve together and as an organisation," he said.
Nevertheless, Marún added that the study also revealed several areas where the industry could improve, such as providing more jobs for women who are underrepresented in the sector.