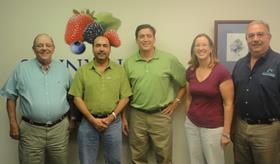 US berry distributor SunnyRidge Farm has signed an agreement with Viverosur in Chile to produce the new Amira raspberry variety in Mexico, according to a press release from the company.
The Amira variety, which was developed by Berry Plant of Italy, was introduced last year to the European market, where SunnyRidge Farm claims it received "superior ratings" from several leading retailers for its taste, quality and size.
SunnyRidge said it has selected a few key producers, from its family of growers in Mexico, to partner in the production of this new variety.
The introduction of the Amira variety is designed to maximise the group's raspberry offer to retail customers.
"For the last several years, SunnyRidge Farm has continued to focus on increasing its investment in the rapidly growing raspberry industry in Mexico," stated Keith Mixon, president and CEO of SunnyRidge Farm.
"This agreement with Viverosur to produce the Amira variety, along with our existing proprietary blueberry variety licenses, allows us to complete our genetic offering of high quality berries from Mexico."
Alejandro Navarro, director of Viverosur, said the Chilean group is excited to begin the new venture with SunnyRidge Farm.
"The Amira variety has proven very successful in other regions with similar weather patterns as Mexico," Navarro explained.
"We anticipate great success with this new variety in Mexico and look forward to our continued partnership with SunnyRidge Farm in the future."