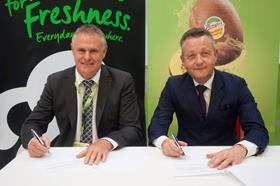 Zespri and T&G, two of New Zealand's largest fresh produce companies, have formed a new partnership to sell branded fruit to retail customers in certain markets of mutual strategic importance.
The partnership, which was announced at this year's Fruit Logistica trade exhibition in Berlin, will see T&G sell Zespri-branded kiwifruit alongside its own branded offer – principally Jazz and Envy apples – in Cambodia, Laos, Myanmar and Thailand.
The fact that Zespri and T&G have been able to reach a point where they can sign a memorandum of understanding on such a commercial venture represents a remarkable turnaround in terms of the two companies' commercial relations; only a few years ago, relations between the two reached rock bottom in the midst of T&G's attempts to break Zespri's single-desk control of the New Zealand kiwifruit business during a lengthy court battle.
It is understood that a concerted diplomatic effort behind the scenes on the part of both companies – led by Klaus Josef Lutz, the chairman of T&G's German parent group BayWa, and senior members of the Zespri hierarchy including chairman Peter McBride and chief executive Lain Jager – has brought them closer and enabled them to identify common ground where a collaborative market effort suits both parties.
In fact, in the context of the New Zealand kiwifruit business, the partnership represents more than a traditional collaborative marketing agreement, since T&G will be allowed to sell Zespri-branded kiwifruit – Hayward and SunGold – to its retail partners in South-East Asia, a part of the world where its footprint in the market is notably stronger.
According to Warren Young, Zespri's collaborative marketing manager, who worked closely with his counterpart Sarah McCormick, sales manager at T&G, to put together the deal, reaching such an understanding is the culmination of two years' discussion. "This memorandum of understanding signifies a new era in terms of generating mutual benefits for our respective stakeholders," he commented.
Speaking on behalf of T&G, Lutz said that signing the deal was a "great pleasure" given the strained relations T&G's previous owners had with Zespri. "We are happy because when we decided to invest in New Zealand, the relationship was not so easy," he said. "I think we have a brilliant future ahead and I look forward to the deals we will now be able to make in the future, which we hope will lead to profits and a favourable bottom line for all."
The partnership is a significant change for Zespri's own approach to market expansion and brand building, McBride added: "BayWa's investment in T&G has been a real catalyst for change. There's great potential for us to develop markets around the world and to grow together, especially in Thailand where T&G has a strong presence. This is also something which I believe is in the best interests of our growers."