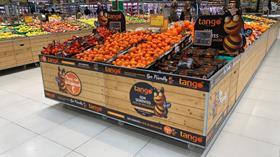 Eurosemillas, the company behind the Tango mandarin, has launched an all-out marketing offensive this season as the brand continues its push into new markets and consolidates its presence in existing ones.
For the first time this year it is carrying out in-store tastings and promotions in retail and wholesale markets in Portugal and the UK, supported by advertising in specialised and consumer media.
At the same time, the campaign is once again running in Spain and Italy where the brand has been marketed for several years.
In Portugal, the brand made its debut in the last week of January in 35 hypermarkets and 60 stores nationwide, including in Madeira and the Azores. That same month, it launched officially in the main UK supermarket chains.
In Spain, Tango is sold through Carrefour while in Italy, it is supplied exclusively by Spreafico to the main wholesale markets and leading retailers.
José Pellicer, director of R&D at Eurosemillas, said the outlook for the current campaign was "moderately positive".
"In these extremely difficult times we have opted even more for the brand, for taking care of the product and being faithful to the values​​of our mandarin," he said.
According to Eurosemillas, the intensification of promotional activities is designed to help the market absorb this year's increased harvest, which at 125,000 tonnes is around 30 per cent higher than last year.
Figures from Cyberagropolis, the company that certifies the brand, show that by the end of February the volume of Tango sold under the label was 50 per cent higher than by the same period of 2021.
It said prices had been lower than in previous campaigns but still profitable for all links in the supply chain.
Juan José de Dios, director of the Tango Brand, said the results were a "remarkable" achievement in a campaign as complicated as this one, marked by the general collapse of citrus prices due to low demand, and spiralling energy and input costs exacerbated by the war in Ukraine.
'Since the end of February/beginning of March, the percentage of Tang Gold that remained unsold was already very low, which proves that the market recognises and values the differential value of our seedless mandarins,' he said.