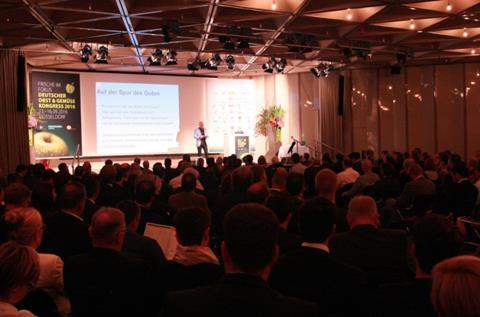 The Deutsche Obst & Gemüse Kongress (DOGK), Germany's leading one-day conference and networking event for the fresh produce business returns to Düsseldorf on Friday 22 September. Organised by Fruchthandel Magazine (part of Fruitnet Media International) and preceded by an informal get-together at Dr. Thompson's Seifenfabrik on the evening of 21 September, the meeting offers plenty of good reasons to participate. Here are just ten:
1. One day - more than 500 contacts
DOGK brings together a Who's Who of the German produce trade.
2. Retailers in the house
Leading supermarket buyers and category managers also attend.
3. Key decision-makers at all levels
From seed development to point of sale, you will meet the most important decision-makers at every stage in the business.
4. Networking
Germany's best annual get-together, kicking off with a fun Thursday evening.
5. Vision, motiviation, team spirit… ingredients for success
Holger Stanislawski, ex-Bundesliga star and coach, now a buyer for Rewe in Hamburg, explains how to promote not only good employees, but also shape and motivate a powerful team.
6. Augmented reality, real vision
Marilena Abt of Trend One explains modern communications and the tools required.
7. Freshness concepts in grocery… from student project to market leader
Nicolas Lecloux, co-founder and CMO at Truefruits, lifts the lid on effective marketing.
8. Very much a matter of taste
Dr Oliver Stolper of Stolper Qualitätsberatung talks about taste perceptions and tests your tastebuds. Powered by Kölla.
9. Market data
Knowledge breeds success. Only those who know the market can successfully act upon that knowledge.
10. Growth in mushrooms
Christian Nacke of Pilzland Vertriebs and Michael Schattenberg of BDC highlight new growth opportunities.
Click here to register for DOGK. Full details and programme information available at www.dogkongress.de