Fully automated and customisable vertical farming solution, Horto Professional, to be showcased in Berlin for first time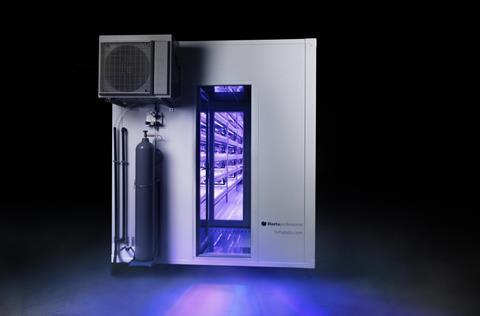 Tomato+ and its completely automated hydroponics systems are set to make their first appearance at Fruit Logistica 2023.
Visitors to the international fresh produce show in Berlin will be able to experience first-hand the company's solutions for growing herbs, vegetables and mushrooms, without the use of pesticides, in any climatic condition and with water savings of up to 90 per cent compared with traditional methods.
Taking centre stage at the Tomato+ stand will be Horto Professional, the vertical farming system for professional cultivation.
Horto Professional occupies the space of a container and only requires a connection to the electricity grid and water mains. Tomato+ will bring a completely accessible 11m2 container to the show so visitors can discover the functions and innovations that set this product apart on the market in first person.
Every technology used in Horto Professional has been developed and patented by Tomato+. This allows the company to tailor each greenhouse to the needs of the customer and provide highly automated solutions for the sector.
The pod system and the artificial intelligence that regulates the production cycles also simplify the management of the cultivation process, making it possible to receive remote assistance and without the need for specialist personnel.
"Fruit Logistica is a great opportunity to present Horto Professional to an international public of producers and retailers," said Daniele Rossi, CEO of Tomato+.
"Our solution will have a major impact particularly in hot and cold markets: making it possible to grow vegetables regardless of the external weather conditions, in these areas it can make a key contribution to minimising the time and distance between production and consumption."
Also on display at the company's stand will be the Horto2 and Horto4 greenhouses, the two indoor models for small spaces and the catering sector.
As well as the pavilion dedicated to technologies and innovations, the Tomato+ vertical farming solutions will also be featured on Spotlight, the online space in which Fruit Logistica highlights brand-new products to the media.