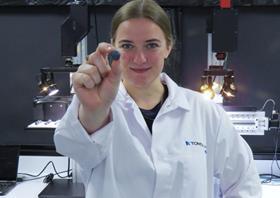 Tomra has announced that Tomra Fresh Food, one of its two business areas, is now operating from its Field Research Centre in Waikato, New Zealand.
By bringing together business activities previously located in both Waikato and Auckland, all stages of the development cycle, from Fruit science to designing and manufacturing food-grading solutions, are now in close proximity the company said.
The move follows Tomra's recent decision to create two distinct business areas, Tomra Processed Food and Tomra Fresh Food. It also integrates the expertise of Compac and BBC Technologies, the two New Zealand-based businesses acquired by the group in 2018.
Tomra said its Fresh Food business line is now the leading provider of post-harvest solutions and services to the global fresh produce industry, using the world's most advanced grading technology. It provides innovative packhouse solutions for fresh produce such as apples, citrus, avocados, tomatoes, kiwifruit, cherries, and blueberries.
Geoff Furniss, CEO of Tomra Fresh Food, commented: "We are determined to continue pushing the limits of agri-tech innovation and to further extend our offering.
"By operating out of the Field Research Centre, we can fully align our development team, to deliver highly valued products to the food industry, and make better use of the skillsets and expertise of our entire team, to get closer to our customers through aligned service and sales offerings."
Ideal climate for product development
The Waikato District, in New Zealand's North Island, is at an intersection between subtropical and temperate climates. This makes the area unusually well-suited to a wide range of crops, including all kinds of berries, apples, potatoes, and cherries.
The nearby Bay of Plenty region, blessed by the warming influence of the Pacific Ocean, is home to New Zealand's largest plantings of avocados and kiwifruit. This rich agricultural diversity means that Tomra is well-positioned to build lasting relationships with a wide range of commercial partners.
The Field Research Centre is housed in a two-level, 5,100m2 building which can accommodate 280 employees. Some 3,300m2 are dedicated to factory space, 1,800m2 to offices and research and development.
The building's design includes collaborative spaces, with the potential to host like-minded enterprises, to facilitate the sharing of information and creation of ideas.
The Field Research Centre houses a production design facility; coldstorage; a facility for full-test simulations of packing lines and testing new integrated solutions with these lines; space for engineering, electronics, software design, and fruit-science test laboratories; and the space for scale and growth for Tomra's research and development programme.
The site also features 2ha for field research, to be developed as test orchards. By growing the same crops as its customers, Tomra will build an even more intimate understanding of the challenges they must solve, from the field through to packhouse.
Furniss said: "Tomra's development team will work directly alongside the company's Fresh Fruit Science Programme to test and improve solutions prior to producing them on site.
"The assembly teams can provide direct feedback to development to close the feedback loop. This is where the process starts and where we have the space to sort out any problems, inventions, brainstorming and creating, so we get to the stage where we have solutions our customers truly value.'
TOMRA's Fresh Food business line now has 17 global offices with manufacturing in New Zealand, Europe and China.