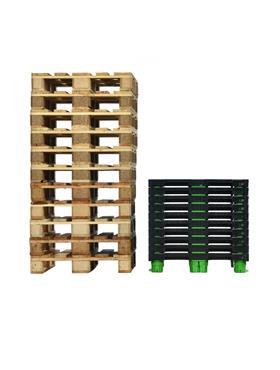 Tosca, a global leader in reusable packaging solutions and pooling for supply chains, this month launched a new heavy-duty, plastic 'super pallet' that it believes can deliver game-changing efficiencies throughout the automated distribution supply chain.
Designed to outperform wood, NeRa is the first plastic pallet engineered with Tosca's trademark PowerDeck strength and fitted with SureFoot legs for seamless automation. It is rated for static loads of up to 3,000kg and is fully nestable – a unique combination, says Tosca, that increases storage capacity while reducing space requirements by up to 2.5 times compared to wooden equivalents.
Jesse Sels, President EMEA at Tosca explained: "There are plastic pallets that can carry similar weight in a rack as the NeRa, but this is the first time this kind of strength has been available in a nestable pallet. This nestable design, combined with a high strength-to-weight ratio and long service life, makes the NeRa a more cost-efficient and sustainable solution than wooden pallets in virtually any warehousing and distribution application. Its robust construction and highly consistent dimensions mean the NeRa is ideally suited to automated handling systems. These benefits are particularly clear during the "last-mile" outbound delivery of goods into retail."
Space saving and durable
NeRa plastic pallets offer considerable space savings due to their nestability when compared with their wood counterparts, he adds. The pallets feature a runner-less design that cuts stack heights in half. This not only saves valuable warehouse space, but also makes it possible on average to fit 660 more pallets in each return truck. The NeRa also has a low weight of 18kg, which means you can put more on the pallet and the truck to improve profitability.
Made from 100 per cent HDPE, NeRa pallets are also damage- and germ-resistant for cleaner overall operations, Tosca claims. They require no heat treating and fewer washer trips than wood pallets and can save on labour spent cleaning up wood shavings off conveyors and floors. NeRa pallets have an operational lifetime that is seven years longer than wood equivalents. They are reusable, repairable, and recyclable. According to Tosca, they can reduce pallet disposal waste and produce 2.5 times less CO2 emissions than wood pallets (based on a distance of 500km and 100,000 trips).
Optimised for automation
Each plastic NeRa pallet is of uniform weight and size, measuring 800mm x 1200mm x 157mm. The SureFoot wide lateral legs ensure seamless transfer over conveyors and can be swapped in and out easily and quickly. Supplied with high visibility green legs, the NeRa helps forklift operators navigate loaded pallets safely in the high rack.
Available only for pooling and rent, NeRa pallets are compatible with all standard 100mm and 150mm conveyor roller pitches and fit all standard pallet racking types, including drive-in configurations.
To ensure high-performance logistics NeRa pallets can be outfitted with Tosca AssetIQ, a supply chain IoT service that delivers critical data and insights about supply chain performance, allowing Tosca's partners to find efficiencies and relieve bottlenecks.
Tosca (www.toscaltd.com) is a global leader in reusable packaging solutions and pooling for food supply chains. 'Our unique end-to-end pooling capabilities offer growers, suppliers, and retailers a smarter and more sustainable way to move their products from source to shelf,' Tosca says.