Total Produce UK is to rebrand its operations across the United Kingdom, a move described as an "important milestone"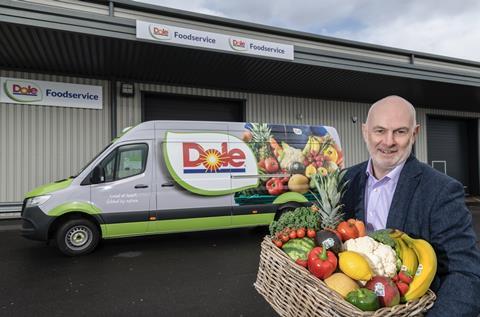 Dole has announced that Total Produce UK is to join the group's Irish, Nordic and exotics businesses by rebranding its operations across the UK to reflect the wider group's new identity.
Total Produce UK will transition to Dole UK on Monday 7 November, with managing director Mark Owen excited by the opportunities associated with the move.
"What this rebrand will do is reflect what is undeniably an important milestone in our evolution," he said. "Our combination with Dole has made us, not just a more global company, but a better partner in produce.
"Dole's strength as a primary producer positions us as a truly vertically integrated business," Owen continued. "While our commitment to existing partners in production, local and global, will remain undiluted, our influence from farm to fork will enable us to ensure best agronomic and sustainable practices right across the global supply chain.
Our iconic Dole brand, the world's number one fresh produce consumer brand, will also provide an important focal point for innovation and new product development," he noted. "We very much look forward to sharing the benefits arising from these developments with our suppliers and customers in the months and years ahead."
Dole said that in practical and administrative terms, the transition to Dole UK was expected to have minimal impact operationally with no changes outside of company name to contact details, registration or vat numbers, invoicing or banking details, existing company policies, practices or terms of trade.
While the practicalities associated with the rebrand were straightforward, Owen said he was nevertheless eager to reflect on the moment itself.
"What a remarkable journey ours has been," he said, "from a modest local wholesale business in Ireland to the new global leader in fresh produce.
"Growth has always been in our DNA. Managing change is second nature to us. The transition to Dole UK represents just the next chapter in what is an incredible success story and our determination to build still further, to continue to improve the products and services we present to the marketplace, remains undiminished."