Despite a promising start to the year, production and exports continue to decline
Peru's asparagus producers are living through challenging times according to a report by fresh produce consultancy Fresh Fruit Peru. Once the star of the country's fruit and vegetable export basket, both production and exports have been declining steadily in recent years as Peru's market window has shrunk.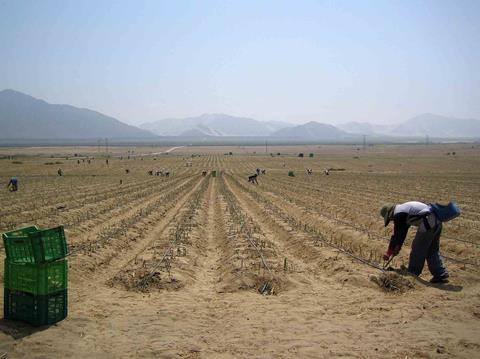 Between January and April 2023 shipments fell by 13 per cent in volume and 6 per cent in value compared to the year-earlier period, totalling 31,148 tonnes worth US$104m. Fresh accounted for 72 per cent of shipments, followed by canned (22 per cent) and frozen (5 per cent).
"The beginning of the fall in Peruvian supply can be traced to the disincentive generated by the growth in freight rates, especially air freight, during the pandemic, which seriously cut into profit margins," Fresh Fruit Peru said.
"Another factor that had a similar impact was the demand for fumigation by the US health authorities in order to enter that market. This created a great barrier for many producers to generate contracts with importers from this key destination. In addition, it inflated the cost structure even more, making this crop less and less attractive in national territory."
New plantings stagnated, with many producers opting to replace the crop with more profitable alternatives.
The trend accelerated further in 2022 when increases in production in Mexico and Europe caused international prices to fall.
"But not all producers have this facility to replace the crop, since many small farmers, not having the financial capacity to make these crop changes, have chosen to also serve the domestic market in the hope of increasing profits," Fresh Fruit Peru continued.
The consultancy said the situation has improved somewhat recently due to a drop in Chinese shipments and a delayed start to the European crop, especially Spain and France.
"Added to this is the demand for this product, which remains stable. Across Europe an improvement in prices paid of approximately 14 per cent was observed," it said.
The North American market has also gone through a situation similar to Europe. The drop in Chinese shipments has been compounded by a slow start to the Mexican campaign.
Fresh Fruit Peru noted that Peru's plant health authority, Senasa, is expected to reach an agreement with the US health authorities to replace the current bromide fumigation protocol.
"This was expected to be achieved at the beginning of the year, but unfortunately the process is still ongoing. However, it could generate new life into the sector, since the replacement of this technique would increase the profit margin for Peruvian producers," it said.