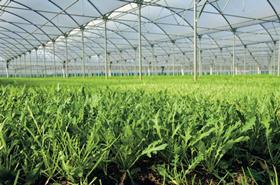 Tozer Ibérica has launched a new catalogue showcasing its latest varieties and new corporate image.
The catalogue, which can be downloaded from the company's website, includes new varieties of celery, parsnip, leek, arugula, kale, pointed cabbage and pak choi, as well as spinach and chard varieties developed by seed company Pop Vriend.
"Our main objective is to show professionals all our novelties, which are the result of the great effort invested in innovation over the years," said commercial technician José Carlos Grajeda.
"At the same time, we want to improve by making the information on our main varieties more accessible."
Tozer said spinach and chard were products that saw the greatest increase in sales in 2020. "Pop Vriend's spinach varieties resist the new breed of mildew and have become one of the most widely used, while their chard varieties are also tolerant to mildew and produce a high yield," Grajeda said.
Tozer Ibérica, the Spanish subsidiary of UK seed specialist Tozer Seeds, reported a 15 per cent increase in sales in 2020.
The Fuente álamo-based company recently expanded its warehouse which will become the group's logistics centre for the whole of Europe.