Record South African apple and pear harvest translates into milestone for leading exporter
South Africa has just about managed another record export crop for 2022 but achieved considerable growth in exporting pears when compared with last year.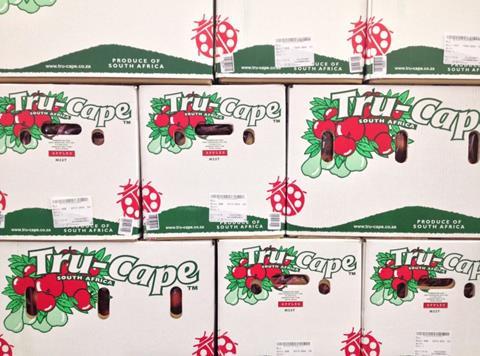 For leading exporter Tru-Cape Marketing and its suppliers it brought about a special milestone, with 1m bulk bins of fruit harvested for the first time.
The latest forecast indicated that by the end of the season South African apple exporters would have shipped 45.175m cartons of apples, up 1 per cent on last year. It is the third year running that the country achieved a record export volume.
The latest pear export volume forecast of 20.767m cartons is 13 per cent higher than last year and significantly more than the 16.821m cartons in 2020.
Tru-Cape Fruit Marketing is wholly owned by its growers at Ceres Fruit Growers and Two-a-Day in the Grabouw Valley. It also has a group of independent growers which supplies to the company.
The group said that 2021 was a record year in terms of volume and this year exceeded that. "Year-to-date the export volume has been a record in company's 22-year history," it stated.
Calla du Toit, Tru-Cape's procurement manager, said that growth was not only because of more efficient farming practices such as new rootstocks and new, narrow-planting techniques, but also because of its leading position in new variety development.
"Flash Gala, the brand being developed for high-coloured fruit from the Bigbucks variety, is the most successful new variety in the history of SAPO, the SA Plant improvement organisation responsible for growing the trees," he said.
Between the growers of Ceres Fruit Growers and Two-a-Day a total number of 880,000 bins of apples and pears were picked.
"If we add the 130,000 bins harvested by our non-shareholder growers, we, as a combined grower grouping, harvested in excess of 1m bins together – a big number to get one's head around," du Toit explained.
Tru-Cape managing director Roelf Pienaar said that Tru-Cape Marketing exported fruit to 105 countries around the globe.
"While we are proud to be the largest exporter of South African apples and pears, we also supply about a third of all the apples and pears sold in South Africa in 14 different brands," he added.
"More than 13,000 people who work for our growers and packhouses rely on Tru-Cape Marketing to achieve the best prices for the fruit. This is a responsibility we take very seriously."