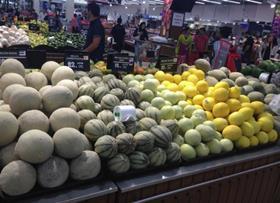 The UAE's ban on a number of products from various Middle Eastern countries, due to be introduced on 15 May, is already having a negative impact on producers and exporters in Oman, Jordan, Egypt, Lebanon and Yemen, according to reports.
The ban was announced after UAE authorities confirmed the discovery of products exceeding maximum residue limits on pesticides. These included Omani melons, watercress and carrots.
Omani efforts
Dr Fuad Al Sajwani, Oman's minister of agriculture and fisheries, revealed that the ministry was dealing with those found to be in violation, although he admitted that, in a country of more than 166,000 farms, the overall task was a tough one.
"It's difficult to monitor all these farms, but we conduct random inspections which have helped crack down on some culprits," he told Gulf News. "We export hundreds of tonnes of food products to the UAE on a daily basis. Such mistakes are likely to happen despite the fact that we are always inspecting products before exporting them."
Oman's Health and Environment Committee urged officials to set up an independent authority to monitor pesticide use, and last week, the Ministry of Agriculture and Fisheries confirmed that it had increased its food inspections.
"More than 1,600 samples taken from commercial farms nationwide were tested," the ministry stated, "and we found that 98 per cent of the samples conform to internationally permissible limits of pesticides."
A 2010 agreement between the UAE and Oman stipulates that specific Omani produce must bear a certificate indicating the amount of pesticide residue, a measure that has reportedly boosted the safety of Omani exports.
According to the National Centre for Statistics and Information (NCSI), Oman's agriculture sector represented 0.9 per cent of GDP in 2016. Oman's Vision 2020 sets a target of increasing agriculture's contribution to 3.1 per cent of GDP by 2020.
Jordanian reaction
The effect of a ban on Jordanian imports was always likely to be more significant. Jordan exports more than 500,000 tonnes of produce to the Gulf, accounting for around 20 per cent of GCC imports of fresh vegetables.
According to Wael Haddadin of Haddadin Farms, the country can generally be divided into two camps: those exporters that work on a contractual farming basis, enabling their produce to be traced and monitored, and those that buy from the local market and lack the ability to trace their produce.
"Jordanian exporters that supply the hypermarkets test each shipment item by item for residue limits and comply with international standards," he said. "Jordan has strict rules and regulations that enable the Ministry of Agriculture to fine, close and remove crops from any farm that has residues over the restricted limits in the wholesale market."
He stated that the Ministry of Agriculture had recently taken "serious measures" to guarantee that all produce leaving Jordan is tested and shown to be free of all harmful chemicals.
"No shipment will leave Jordan unless inspected for MRLs," said Haddadin, "and any exporter that does not comply with the new measurements will be liable and will be punished. At the same time, the Jordanian government will work with its counterparts in the GCC to ensure that all measures are taken, including double-testing on the borders of the GCC."

UAE effect
For importers in the UAE, the challenge is to find alternative sources for the banned items. According to Mustafa Altaf of Altaf Hussain Trading Co, there are many alternatives on the market for items like carrots.
"We are already receiving carrots from China, Vietnam and Australia," he said. "So this ban will only have a temporary effect. In terms of prices, we may notice a slight increase, which will go back to normal once fresh stocks start arriving. Following this news, I believe we may see larger imports of carrots from more countries, so prices may collapse in the long run."
James Varghese, sales and marketing manager at Abu Dhabi producer Elite Agro, suggests that the ban may also be positive for local production.
"The import ban will help local production," he said. "Produce from some of these countries is sprayed with a lot of chemicals, so this is the perfect opportunity to market how healthy our home-grown produce is."