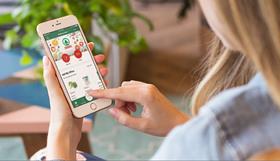 Mobile tech pioneer Ubamarkethas launched an app designed to lure customers back in-store and boost trade for Britain's grocers and retailers.
The company is hailing the app as a much-needed tonic for the UK retail industry following the rise of e-commerce. It claims an earlier version of the technology,already in use in severalSpar, Londis and Warner's Budgens stores across the UK and Ireland, saw a 92 per cent adoption and re-use rate amongst customers, and led an average increase of in-store purchases of 21 per cent.
The app features a range of AI-backed features, including sat-nav to guide customers around the store to products they have saved on their personal shopping list; a scanner allowing customers to bypass queues by scanning products as they shop and checking out digitally; and facial recognition technology so they can be approved to buy products that would typically require them to show ID.
It also offers exclusive access to deals and offers reserved for app users, sends dietary and allergen alerts for individual products, and helps customers to shop more sustainably by providing information on which packaging can and can't be recycled.
Ubamarket claims British consumers are more receptive than ever to using technology to improve their shopping experience.
According to the company's latest research, 52 per cent of people in the UK are happy for retailers to collect consumer data if they can benefit from money-saving opportunities; 24 per cent say food retail is the only sector in which they appreciate personalised offers; and 23 per cent of shoppers say they have lost up to hundreds of pounds worth of savings and offers through lack of information or the inconvenience of loyalty cards.
"2019was an unbelievably tough yearfor the retail industry, but I think the pessimistic view taken by many that the high street is dyingis simply not true," said Ubamarket CEO Will Broome.
He warned that physical stores who fail to offer an attractive experience and compelling money-saving opportunities would lose out e-commerce.
"Ubamarket's mobile technology…revitalises and revolutionises the process of shopping in-store for customers, and provides retailers with a much-needed method to get back on track and ensure they can thrive in the midst of a tough climate for the industry.
"What's more, our research clearly shows that a huge portionof consumers are receptive to mobile technology already, and these numbers are only set to grow as technology permeates our society further.
"Technology gives shoppers a reason to get up off the couch and feel excited to shop in-person again, and at Ubamarket, we are committed to providing this technology to help traditional retailers not only survive, but thrive."
The Ubamarket demo app is available to trial on the App Store and Google Play Store.