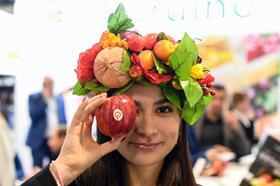 Ukraine is stepping up its efforts to access new markets for the country's fruit and vegetables, including Egypt, according to a report from EastFruit.
Andriy Yarmak, economist at the UN Food and Agriculture Organisation (FAO), noted that Poland currently exported around 100,000 tonnes of fresh apples to Egypt per season.
"Ukraine does not supply a single tonne, despite the logistics for exporting apples to Egypt from Ukraine being better than that of Poland,' he said.'The main reason is that Poland enjoys the advantages of duty-free trade with Egypt, and Ukrainian suppliers would have to pay import duties, which makes their apples uncompetitive in this market."
Yarmak estimated that Ukraine would be able to export up to 10,000 tonnes of apples to Egypt should duty-free access be granted.
'In addition, Egypt is one of the world's largest importers of apples with an ongoing upward trend, which makes it very promising for Ukrainian farmers,' added Yarmak.'Since Ukraine imports quite large volumes of citrus fruits from Egypt, apples would be a good way to optimise logistics for reloading. It is incredibly important now, and it would also reduce both the cost of importing citrus fruits and the cost of logistics for exporting apples."
Vladyslava Magaletska, head of the State Service of Ukraine on Food Safety and Consumer Protection,commented: 'Today our apples are subject to additional duties, and as a result, they lose in price to Polish ones.We must resolve the situation and establish equal conditions."
According to EastFruit, Magaletska talked to Ukrainian growers and representatives of the Ukrainian Horticultural Association about the opening of the Egyptian market not just for Ukrainian apples, but also for blueberries and cherries.
"Egypt is a very interesting country for Ukrainian growers,' she said.'It is a gateway to Africa and a country of enormous potential and a population of 100m.Therefore, we will work on expanding our cooperation and creating new opportunities for producers.'
Yarmak revealed that apple prices on the Ukrainian market were currently around half of last year's, affecting investments in the country's horticultural sector.