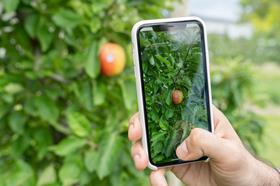 Austrian start-up Pixofarm has signed a partnership deal with global agri-input supplier UPL to expand grower access to Pixofarm's technology to help improve efficiency, productivity, and sustainability of fruit farms.
UPL will support Pixofarm's growth by expanding its access to apple growers across Europe, and giving Pixofarm additional capital to invest in accelerating product development towards a fully integrated smart farming solution.
As an OpenAg Digital Partner, Pixofarm's expansion will be supported by the UPL network which currently operates across 130 countries.
Jai Shroff, UPL's global CEO, said "As part of our OpenAg purpose, we are constantly looking to embrace innovative young companies with new and better ways of helping growers deliver better outcomes for the consumer and the environment.
"We are excited to collaborate with one of the most promising agtech startups, Pixofarm, which is putting the power into the hands of the growers to gain high-quality real-time data about their orchards, reimagining sustainability at the farm level."
Farid Edrisian, CEO of Pixofarm, added: "As one of the world's leading agri-input companies, UPL's collaboration with Pixofarm is a strong endorsement of Pixofarm's unique technology.
"Our partnership with UPL will give us endless opportunities to provide value for fruit producers, expand our solution across the fruit production value chain and ensure sustainable fruit production. We look forward to working alongside UPL as we continue to expand around the world.
"We believe that digital technologies are key in ensuring the future of sustainable fruit production, and we are glad that we have found a partner like UPL who have recognised the same need and are willing to work together with us in realising that vision."