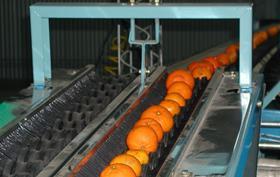 The outlook for the 2021 Uruguayan campaign is very favourable, with quality and production volumes expected to be similar to last year.
According to Nicolás Jaume, director of communications at the Ministry of Livestock, Agriculture and Fisheries, earlier reports of extensive losses sustained after heavy winds and hailstorms have been greatly exaggerated.
"Damage from last December's hail was quite localised," he told Fruitnet. "Inspections carried out by the General Directorate of Agricultural Services showed around 77ha with severe damage, including fruit drop, loss of foliage and significant skin marking; 10ha with medium damage and a further 139ha with some cosmetic damage."
Uruguay has approximately 15,000ha of citrus production, of which around 12,000ha are registered for export.
"Although the area affected will see a decrease in exportable volume, it only represents 1.9 per cent of the citrus area destined for export," Jaume continued.
Last season was characterised by relatively low production, but excellent fruit quality with high packouts.
Jaume noted that as productivity is up this year, packout percentages would return to more normal levels, particularly in mandarins.
"This means there could be a reduction in exportable volume in mandarins, but if so, it won't be very significant," he said, adding "the situation is quite variable for each company".
Uruguay exported 32,205 tonnes of oranges and 34,374 tonnes of mandarins in 2020, together with 15,400 tonnes of lemons and 23 tonnes of grapefruit.