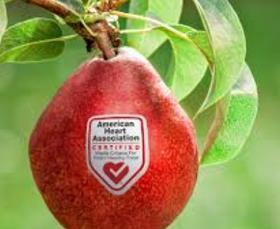 Pear Bureau Northwest (PBNW) has carried out its first promotional events on social media featuring the Heart-Check mark on its Red Anjou pears after receiving heart-healthy certification from the American Heart Association for its red and green Anjou pears at the beginning of February.
"It is gratifying to see sweet, juicy Anjou pears recognised by the American Heart Association as a heart-healthy food," said Kevin Moffitt, president and CEO of PBNW. "With health impacts of cardiovascular disease touching more than one in every three adults, heart health is important to consumers. Now they can feel good knowing their Anjou pear is Heart-Check certified."
USA Pears said the addition of fruits, like pears, to the American diet means consumers are better equipped to meet the recommended dietary guidelines from the USDA.
"As the pear industry continues to communicate the health benefits of pears, collaborating with the American Heart Association helps show our product in the best light with acknowledgement from a trusted, science-based organisation," said Moffitt.
As well as its Heart Healthy Red Anjou promotional materials for February's American Heart Month, PBNW has introduced point-of-sale promotional material featuring the heart health message for National Nutrition Month in March and is planning further heart promotions in the next pear season.