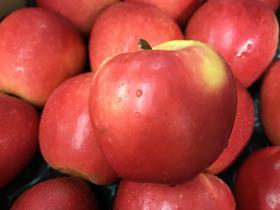 A severe spring frost in China's northwest provinces, along with lower exportable supplies in Europe and the US, has the USDA predicting a smaller crop of apples for the 2020/21 season.
In its annual world production forecast, the USDA announced world apple production is projected to reach 75.9m tonnes this season, representing a 3.6m tonne reduction on last year's volumes.
China's production is estimated at 40.5m tonnes (down 1.9m tonnes), although higher volumes of lower grade fruit is anticipated, boosting shipments to Southeast Asia and thus lifting exports to 1.1m tonnes.
The USDA projects imports to China will drop by 30,000 tonnes, to a total of 70,000 tonnes, thanks largely to logistical disruptions stemming from Covid-19.
Meanwhile, apple production across Europe is expected to rise over 500,000 tonnes to 12.2m as greater supplies from an on‐year in non‐commercial orchards more than compensate for losses in weather‐affected commercial orchards.
Exports are projected down 135,000 tonnes to 880,000 tonnes on fewer commercial supplies, while imports are also expected lower to 460,000 tonnes as reduced shipments from Eastern European suppliers more than offsets supplies from the Southern Hemisphere.
Turkey's apple production is projected to surge nearly 700,000 tonnes to 4.3m tonnes, despite some hail in Kayseri and the largest apple production province of Isparta.
Overall good growing conditions and plantings of new varieties coming into production are expected to generate a sixth straight year of growth. Higher supplies are expected to boost exports nearly 30 per cent to 270,000 tonnes, especially to Russia and India.
US apple production is projected to drop more than 360,000 tonnes to 4.5m tonnes,
as lower yields, wildfires, and a windstorm reduced output in Washington, and a severe freeze reduced output in Michigan.
India's apple production is anticipated to contract slightly to 2.3m tonnes on lower output due to variable temperatures, low water supplies during flowering, and hail during fruit‐bearing.
Quality has also been impacted by an apple scab outbreak in Himachal Pradesh, the second largest producing state. Imports are projected to surge 90,000 tonnes to 285,000 tonnes mostly on elevated shipments of competitively priced fruit from Iran.
Fruit from China has been banned since May 2017, and imports of US apples have fallen nearly 50 per cent following the imposition of a 20 per cent retaliatory tariff in June 2019.
However, the USDA reports the number of countries supplying apples to India doubled from 14 to 28 between 2013/14 and 2018/19 and has remained above 20 since then, with Turkey and Afghanistan gaining market share since 2019/20.
South Africa's apple production is projected to rise for the third straight year, reaching 966,000 tons as output gains resulting from good weather and water supplies are only partially offset by damage from hail in the Langkloof region. Growing area continues to expand with new cultivation in the Northern Province that includes plantings of new "low chill" varieties that thrive in warmer temperatures. Higher supplies are anticipated to lift exports to a near‐record 530,000 tons.
New Zealand's apple production meanwhile is projected to contract by 48,000 tonnes to 543,000 tonnes following last year's record. Hail caused severe damage in the Nelson and Otago regions, cooler summer temperatures impacted fruit size, and severely reduced labour resulted in fewer orchard picks, all combining to bring output to its lowest level since 2016/17.
As a consequence, exports are anticipated to drop to 2016/17 levels, falling 56,000 tonnes to 345,000 tonnes.
Pear production to follow suit
USDA expects world pear production for 2020/21 to decline 1.2m tonnes to 22.1m tonnes, on the back of weather‐related issues in China, which are also projected to lower trade.
China's pear production is projected down 1.3m tonnes to 16m tonnes, as output in the main producing region of Hebei Province was reduced following an April frost during fruit development.
Lower supplies are expected to slash exports by nearly 25 per cent to 470,000 tonnes. Imports are also expected to contract to 10,000 tonnes on reduced demand for Western‐ style pears following several years of modest improvements.
European production is expected to rebound from last year's weather and pest‐related losses, jumping nearly 280,000 tonnes to 2.3m tonnes.
Despite greater output, exports are projected lower to 270,000 tonnes due to hail and heavy rain in the Iberian Peninsula during flower and fruitset, reducing exportable supplies especially to Brazil.
US pear production is expected to contract
37,000 tonnes to 608,000 tonnes on the back of lower
bearing acreage and yield.
Planted acreage continues to decline in Argentina, and as a result pear production is expected to see a slight reduction to 620,000 tonnes, halting several years of positive growth.
South Africa's pear production is anticipated to remain steady at 410,000 tonnes on good growing conditions. Growing area continues to recover from pre‐drought levels as producers work to replace old trees removed during the drought. Parallel with production, exports are expected to remain firm at 230,000 tonnes on stable supplies.
Meanwhile in Russia, production is tipped to drop 43,000 tonnes to 247,000 tonnes, on weather‐related damage in commercial orchards and an off‐year in non‐commercial orchards as trees recover from last year's large crop. Risk of disease and cold‐storage challenges are inclining commercial growers towards apples, but non‐commercial growers are showing greater interest in pears, attracted by their higher price.
Imports are set to rebound from last year's record low, rising 36,000 tonnes to 230,000 tonnes, confirming their status as the world's top importer. Higher shipments from Belarus and Turkey are expected to offset reduced shipments from Southern Hemisphere suppliers.