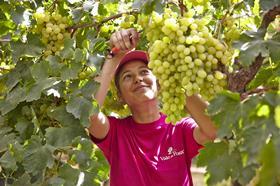 Portugal's Vale da Rosa has announced that from next season it is to start exporting its table grapes to Brazil, the largest market in South America.

According to Ricardo Costa, the Ferreira do Alentejo-based company received the green light for shipments at the beginning of the year, once phytosanitary restrictions blocking exports had been lifted.
"Brazil is alreadu the leading importer of Rocha pears and we are convinced that it can become an important market for our grapes," Costa said.
He added that the company has already identified three potential customers: Walmart, Brazilian supermarket chain Hortifruti, and fast food chain Salute.
With an annual turnover of €11m, Vale da Rosa produces around 6,000 tonnes of grapes a year, of which around 35 per cent are exported to Europe, Angola and China. Costa said with new production coming on stream, output is set to reach 8,000 tonnes within the next two years.