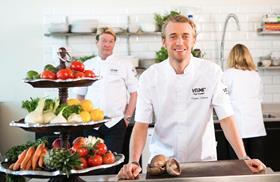 Norwegian importer Bama Group continues to act as a driving force in the Nordic fresh produce business and, as such, finds itself actively tapping into the present healthy eating trend in order to keep fruit and vegetables sales moving upwards.
With more and more consumers seeking out meat-free products that are regarded as more environmentally sustainable, the business recently secured a major new agreement for its own subsidiary Nordic Lunch to distribute products marketed by Swedish vegetarian gourmet food brand Vegme.
More than anything, the move offers further evidence at a commercial level of growing consumer interest in meat-free options.
For Nordic Lunch's chief executive Stefan Granlund, the agreement provides a "very interesting addition" to the company's product portfolio.
For Vegme's owner Gastranova – a startup managed by its shareholder chefs the Schönemyr family – the deal will put the brand into grocery stores, restaurants, catering and service stations throughout Norway courtesy of Bama's marketing, sales and distribution networks.
As the anticipated increase in demand materialises, Gastranova plans to occupy a new, state-of-the-art factory during the second half of 2017.
Rune Flaen, chief executive of Bama, says the market is ready for a brand like Vegme: "This is a very exciting collaboration from which we expect a lot. We are very impressed with the chef family Schönemyr's expertise and commitment."
He adds: "The products we have tested are amazing, and at the same time we know that there is a rapid rate of innovation and development for new veggie products."
An extended interview with Bama CEO Rune Flaen appears in the June 2017 issue of Eurofruit.