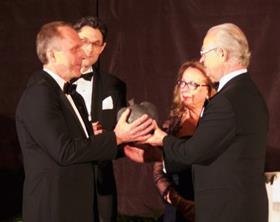 Plantagon has won the SACC New York-Deloitte Green Award for its vertical greenhouse.
Handed out annually to a Swedish company that makes a green breakthrough within the food chain, Plantagon stood out this year for their space-efficient solution for urban agriculture.
The award was presented to Plantagon CEO Hans Hassle by King Carl XVI Gustaf of Sweden at the Mandarin Oriental Hotel in New York.
Hassle said: "It is fantastic that a small company like Plantagon not only has become a leader in a new field like urban agriculture, but also can serve as a model for sustainable business and leadership."