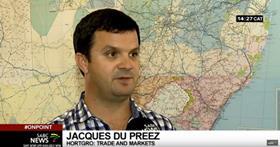 Jacques du Preez, trade and markets general manager at South African deciduous fruit growers' association Hortgro, has confirmed in an interview South African channel SABC News that talks to finalise access for the country's pears to China have been postponed as a result of the ongoing coronavirus outbreak.
He said it was a 'big disaappointment' that a planned government visit to China, to discuss an export protocol that has been more than 15 years in the making, had been cancelled.
South Africa's fruit industry already exports a sizeable proportion of its fruit production to the Far East, as well as to Europe, North America and other markets in Africa, making it a major contributor to the country's economy.
Growth in Asian markets, including China, forms a key part of the South African fresh produce industry's future growth plans.
Du Preez said talks to discuss pear access to China would be resumed 'as soon as it is safe to do so'.