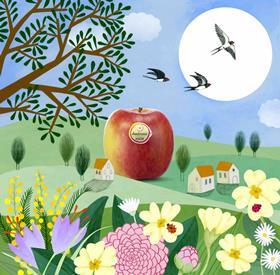 Italy's Val Venosta produce grower group VIP has reported such "dynamic" sales of its club apple variety Ambrosia in Europe that its 2020/21 season ended prematurely.
The group said it initially planned to guarantee supplies throughout the month of April, but due to the higher demand in its main markets at the beginning of 2021, it decided – with agreement from its clients – not to curb demand, but to end the season early.
Sales in Spain were particularly strong, VIP said, thanks in the main to the launch of its first TV campaign in the country, which "found extraordinary resonance with consumers", VIP said.
"The campaign's reach far exceeded all expectations and Ambrosia was able to position itself as a quality brand among Spanish consumers," the group said in a press release.
Ambrosia sales in Italy were strong from the start of the season, VIP said, adding that the German market was "a very positive surprise".
"Constant demand by clients and consumers [in Germany] was better than expected," said Fabio Zanesco, VIP sales manager. "We knew that we would do well, but such a stable demand confirms again that Ambrosia is a variety affirmed on solid foundations."
VIP also expanded distribution in Scandinavia during its 2020/21 campaign, but cut exports to Asia due to problems caused by the pandemic.
"We nevertheless regard Southeast Asia as a very interesting market for Ambrosia's taste profile," VIP said. "This is why we have to work hard to relaunch the marketing strategy in the next season in line with the volumes that will be available in the requested quality. This spring is climatically very difficult in all production areas. So we will have to figure out the best way in the next months."
VIP said it strengthened its Europe-wide Ambrosia marketing campaign in 2021, and restyled the brand with the help of the Robilant agency. Its Instagram campaign was of notable success.