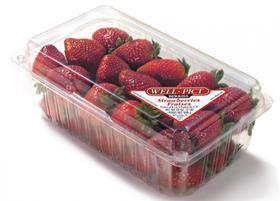 US-based Well Pict has unveiled a new 2lb (0.9kg) strawberry clamshell, designed to reduce shipping costs and increase product protection.
The packaging, which is designed to fit in the same trays as the group's 4lb (1.8kg) container, provides around 35 per cent more unit density, resulting in reduced fuel usage and cheaper freight rates, Well Pict said.
The material is manufactured from recyclable PET material that is 70 per cent recycled content from drink bottles, making it environmentally friendly, the group added.
The clamshell will be on display at the PMA Fresh Summit in Orlando,Florida, where Well Pict will be showcasing their products at booth2069.
Additionally, the group has said that it will be introducing winter strawberries from Florida for the first time this year, with shipping expected to take place between December and February. The California crop will also be strong this year, according to sales manager Dan Crowley. 'We expect a great product from Oxnard through the fall season. We will continue to have good volume and a high quality product.'