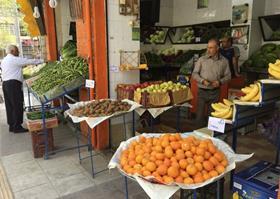 The era prior to the introduction of international sanctions, and before more recent import controls were imposed by the Iranian government, is indicative of the latent demand in Iran for imported fresh produce during its off-season and when the country's local production is insufficient to meet the people's needs. A decade ago, Iran was a substantial importer of bananas, citrus, pears, grapes, stonefruit and tropical fruits.
Alireza Emami, CEO of Zarrin Group, one of Iran's leading importers and exporters, suggests imports could again be a significant feature of the Iranian fresh produce trade if restrictions are lifted. In particular, he believes there would be good potential for counter-seasonal citrus, grape and apple imports from the Southern Hemisphere.
Discover new opportunities in the Middle East fresh produce business at Fruitnet Forum Middle East 2017
Import potential
Currently, the only imports permitted by the Iranian government are those tropical fruits that cannot be grown locally – bananas, pineapples, mangoes and semi-husk coconuts.
Emami suggests the main limitations for imports are the government restrictions that have been imposed due to a lack of financial resources to import, as well as import controls to support local producers. Other limitations are the major devaluation of the Iranian rial, making imports more expensive, and a lack of funds for infrastructure development, necessary to improve the quality of production and reduce wastage.
Despite the restrictions, banana imports are significant, ranging from 40m-50m cartons annually. Bananas are sourced from Ecuador and the Philippines, along with smaller volumes of cheaper bananas from India, the volume of which has increased recently. The Philippines is the number one supplier, yet Ecuador is regarded as shipping the best quality.
Pineapple imports are sourced from the Philippines, with small volumes from Malaysia. The MD2 supersweet variety from the Philippines is the most popular, due to its size and high Brix. Malaysia supplies smaller, lower Brix fruit.
Port options
Direct shipments into Iran come through two main entry ports, Bandar Abbas and, further upstream, Port of Bushehr. Most reefer vessels discharge at Bushehr, which is smaller and less congested, offering quicker discharge, although plug-in facilities for containers are limited. As a result, most containers are discharged at Bandar Abbas, which has more and better plug-in facilities and a greater capacity.
A third option used for Ecuadorean bananas is to ship to Mersin, the Mediterranean hub in southern Turkey, then transport by road to Iran. Shipments entering the country through this channel can disturb the balance of the market. According to Emami, this choice isn't used by Zarrin, as the company prefers to import direct from the origin.
Mangoes are imported primarily from Pakistan, since they can be supplied by land transport at competitive prices. Airfreighted mangoes from other sources are too expensive to be competitive, however, while shelf-life is a challenge.
Slow retail development
Retailing in Iran is dominated in villages, towns and cities by small specialist fruit and vegetable stores. In addition to the many small retailers, some cities have open-area markets, with different sections for fresh produce, meat and other categories. These markets often have fixed maximum prices, dictated by the local municipalities, which also provide inspectors to grade produce.
The modern retail sector for fresh fruit and vegetables is not well developed, with very few supermarkets and hypermarkets, especially outside Tehran. Even in the capital, there are estimated to be only 20 major hypermarkets from a number of operators, including government-owned stores. Fruit and vegetable departments are normally small and restricted to a small range of products, mostly prepacks. In all retailers there is a lack of refrigerated storage and refrigerated displays.
As a result, wholesale markets are essential for efficient distribution. The largest wholesale market, in Tehran, serves the city's population of 18m, plus surrounding areas. The market is based loosely on the Rungis design in Paris. It has expanded from three sales salons, or buildings, prior to the 1979 Revolution, to 22 buildings today, with over 1,000 wholesalers.
Banana balance
Typical of wholesale operators is Mr Heshmati of Heshmati Brothers Trading, one of Zarrin Group's sales agents that specialises in a limited range of fruits, including bananas. He says there are no refrigeration facilities in the market, so it is essential to balance daily orders to minimise leftover stock at the end of each day's trading.
Heshmati says that while Ecuadorean bananas are more expensive, they usually sell before fruit from the Philippines due to their superior quality. The key is to balance sales with demand, to clear stocks on a daily basis. For example, demand for bananas is lower in the summer, when consumers have the alternative of new-season local fruits being available.
Nooshin Mohammadali, marketing executive and quality manager with Zarrin Group, says Ecuadorean bananas are of a much better quality, if higher priced, but that there is a market for higher quality. Even though the shipping time from the Philippines is only 28 days, compared with 45 days from Ecuador, a big difference is that fruit from Ecuador is inspected for quality before it is shipped, unlike in the Philippines.
Developing independence
Consumer trends are also having an impact on fresh produce consumption, according to Mohammadali. The rising cost of living and the impact of sanctions on purchasing power have resulted in significant growth in two-income families, especially in the major cities, such as Tehran. Younger people, in particular, have less time for food preparation and cooking than their parents, resulting in lower fruit and vegetable consumption.
Most locally-grown fruits and vegetables are available in bulk, with retailers arguing that it provides consumers with a choice of size and quality in one carton. However, it is possibly more a reflection of other factors, including the marketing system, protection from import competition and the lack of access to funds for improved infrastructure, such as grading and cooling facilities.
Although individual farms are traditionally small, most farmers supply direct to wholesale markets, as centralised packhouses are not available in all growing regions.
Import bans are in place to protect Iranian fruit and vegetable growers, who have filled the gap and built a level of self-sufficiency for a range of fresh produce. Iran is a significant producer of a host of fresh fruit, including apples, pears, citrus, stonefruit, table grapes, kiwifruit, strawberries and pomegranates.
Premium apple and pear growing regions include Orumich in the northwest of Iran and Damavand, northeast of Tehran. Citrus production is widespread across the country, including north near the Caspian Sea and south around Jirofl City. Kiwifruit production is based in the north, near the Caspian Sea.
The best regions for table grape production include northwest and central Iran, around Shahrood. The Kurdistan region of Iran is regarded as the best strawberry growing area, while the best pomegranates are produced at Saveh, near Tehran, and in central Iran. Shiraz and Bandar Abbas are recognised for their watermelon and Cantaloupe production.
Cucumbers, tomatoes, onions and garlic are major vegetable crops, along with potatoes, although the country's cuisine is rice-based. The country is also one of the world's largest producers of pistachios, dates, almonds, walnuts and hazelnuts, resulting in high domestic per capita consumption.
Despite its international image as a desert region, Iran has significant water resources, which have been progressively and efficiently developed over the past 3,000 years. The importance of water is typified by an informative Water Museum in Yazd, south of Tehran, featuring the role of qanats, a unique underground water distribution system. The longest qanat runs 75km from snow-fed mountains to Yazd, initially constructed 3,000 years ago and still in operation today.
A major challenge facing the Iranian production and postharvest sector is access to funding, to enable investment in technology, such as packhouse systems, coupled with cool chain infrastructure, such as refrigeration and controlled atmosphere storage.