Spain's citrus sector has changed radically in the past three decades. And the arrival of private capital is accelerating its transformation
In 2022, the regional government of Valencia launched a Comprehensive Citrus Plan to develop strategies to improve the competitiveness of the Valencian citrus sector. The team behind the plan are Lorena Tudela and Francesc Cervera of the Polytechnic University of Valencia and Paco Borras, consultant and former commercial director of Anecoop. Below they set out their analysis of how the industry has evolved in the past two decades and where it is heading in future.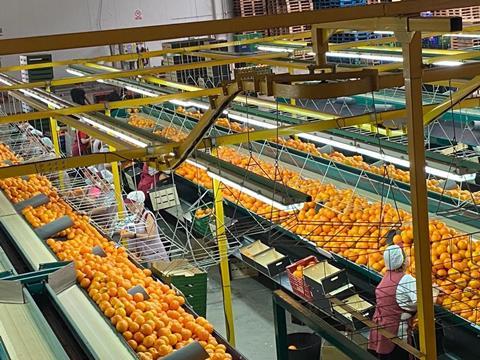 Throughout the 20th century, great changes have taken place in Spanish citriculture. During the last two decades especially, the citrus ecosystem in Spain has undergone a substantial transformation, both in terms of production and in marketing.
Regarding the former, it is worth noting that planted area has remained broadly stable at around 275,000ha in the last two decades, although productivity has increased by about 20 per cent. This is mainly the result of the modernisation of farms and the move towards more productive varieties. The most significant change to Spain's production base has been the number of citrus farms, which has fallen from 184,485 to 78,023. Of the 106,000+ farms that have disappeared, most of them were less than half a hectare. We can therefore deduce that the average size of citrus farms has increased.
The geographical location of the farms has also changed, with less production in what was historically the most important area – the Valencian Community – and new acreage springing up mainly in Andalusia and Murcia. Generally, orange and mandarin production is more concentrated in the regions of Valencia, Castellón and Andalusia, while lemons and grapefruits are grown in Murcia and the south of Alicante.
The marketing structure of the citrus sector has also changed. In 1994 there were 773 registered citrus exporters, of which 641 were private businesses – almost entirely family-run – and 132 were cooperatives. Today there are roughly 220 private companies and 50 cooperatives.
Taking into account that during this period the production of citrus has increased, we can conclude that there has been a process of consolidation and an increase in the size of citrus marketing companies.
It is worth noting that the top 100 companies (both private and cooperatives) between them handle 75 per cent of Spain's citrus production volume, along with the bulk of the 280,000 tonnes of citrus that Spain imports each year, mainly from the Southern Hemisphere. This process of concentration has led to a rise in the number of companies supplying citrus through 12 months of the year, giving them more negotiating clout with the big supermarkets.
Another notable trend has been the growth in the value of lemon and grapefruit exports. Two decades ago, exports of oranges and mandarins represented 85 per cent of the value of total exports, with lemons and grapefruit accounting for the remaining 15 per cent. Today oranges and mandarins make up 75 per cent of Spain's citrus export value, while lemons and grapefruit have reached 25 per cent.
Perhaps the biggest change has been the entry of the private investment funds and venture capitalists in Spanish citrus in recent years. They first appeared in 2016 and since then there has been a continuous stream of deals that has seen funds acquire majority shares in some of Spain's biggest produce companies. At this moment there are at least eight funds with a stake in non-citrus fruit and vegetable companies in Murcia and Almería with a turnover of close to €500m. But it has been in the citrus sector where the operations carried out have been the greatest. Right now these funds are active in around 15 citrus companies which together have a turnover of more than €1.3bn.
The latest deal, in December, saw Fremman Capital, owner of The Natural Fruit Company (TNFC), acquire Bollo International for €300m. Following Fremman Capital's purchase of a majority stake in Murcia-based TNFC in 2021, it has embarked on an ambitious growth trajectory as it seeks to position itself and a world-leader supplier of conventional and organic citrus through 12 months of the year. In the past two years it has acquired SG Marzal, Hermanos Bruñó, Fruitxeresa, Frutas Naturales, Frugarva and NaturGreen.
With the incorporation of Frutas Bollo, TNFC becomes a major supplier of year-round citrus to rival Citri&Co, the group created by Barcelona-based private equity firm Miura Partners.
To date, these funds have kept the same managers in charge of the operations of the companies they have acquired. It will take time to see the impact of these new players on the evolution of Spanish citrus farming in the future