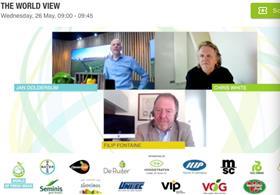 Covid has forced people and companies in the fresh produce business to come up with new ways of working, many of which will continue once the pandemic is over. This was one of the take-home messages from the first day of last week's Fruitnet World of Fresh Ideas online conference and networking event.
Opening the first day's proceeding, Jan Doldersum of Rijk Zwaan and Filip Fontaine of VLAM joined Fruitnet's Chris White and Mike Knowles for a discussion of the key findings of the latest Fruit Logistica Trend Report looking into how the pandemic has shaped the international fresh produce business over the past 12 months.
Overall, it was agreed that fresh produce supply chains all over the world had shown remarkable resilience during the health crisis.
Fruits and vegetables have benefited from the renewed focus on healthy eating and rise in home cooking seen during the pandemic, while retailers have made herculean efforts to increase their online capacity to meet the surge in demand from consumers.
The event, which drew more than 3,000 delegates from 112 countries worldwide, heard how the volume of fresh fruit traded internationally increased by 5.4 per cent to 84m tonnes in spite of Covid. Presenting the FAO figures, Wayne Prowse of Fresh Intelligence Consulting said that while there had been a drop of around 5-10 per cent in the volume traded during the early stages of the pandemic, trade soon recovered for the remainder of the year.
Moving on to how the crisis had affected the way we work, Doldersum explained how Rijk Zwaan had built its own network of studios to enable it to continue communicating with its customers during lockdown.
He noted that creating good content had been equally important, and that the company had decided to keep its studio and content infrastructure going after the pandemic because it "facilitates communication and the reduced travel makes doing business more sustainable".
This view was echoed by Fontaine, who explained how VLAM had brought a speed-dating concept to its business via its virtual platform, allowing importers to keep in touch with growers and exporters all over the world.
Both Doldersum and Fontaine agreed that the absence of physical trade fairs has been keenly felt this past year, not just because of the social aspect, but also they allow people to see, feel and taste the products being traded.
However, they said that the pandemic has made people more conscious of using their time more productively, meaning that in future, smaller events could lose out to bigger shows.