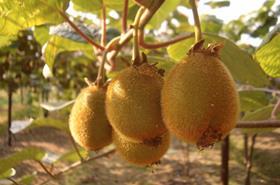 Greek kiwifruit exporter Zeus Kiwi expects production to increase by 15 per cent this season, but harvesting is anticipated to start up to a week later than usual, according to marketing and sales manager Christina Manossis.
"For those customers that want fruit at the start of November, there may be difficulties," she said, "as we have to wait for the Brix to reach the right level. We need to evaluate this. It depends on the weather."
According to Manossis, the popularity of Greek kiwifruit continues to attract traders from Italy. "There is a lot of competition at the moment," she said. "A lot of Italian traders are approaching growers in Greece, offering sometimes rather extravagant prices, paying in cash. Zeus Kiwi has a core of growers that we have been working with for more than 25 years, so they are very loyal to us. But this is not good for the market. We don't know if the market will accept higher prices. Italian kiwifruit is generally more expensive than Greek kiwifruit, but there's no real reason."
Early-season demand from Italian traders encourages premature picking, which can be a major problem, said Manossis. "A lot of harvesting is happening already, which is not allowed, as the quality is not there yet," she revealed. "This can negatively impact the entire reputation of Greek kiwifruit. There are penalties for those that do this, but the authorities have already caught 20-25 growers."
This campaign, the company is focused on increasing its presence in the US, Asia and Latin America. "We think there will be more opportunities this season in markets including Indonesia, South Korea, Thailand and Argentina," said Manossis. "Argentina is now open for Greece, as are Thailand and South Korea. We will do all we can to send some kiwifruit to South Korea, which opened this year. It is a difficult market to penetrate, partly because they also grow their own kiwifruit, but Zeus Kiwi is built for this sort of challenge."
In Latin America, the company's main targets are Chile and Uruguay, in addition to Argentina. "We have also had a presence in the US market for a long time, and we are now focusing on increasing volumes on the East Coast of the country," said Manossis. "We are very careful when stepping into a market as we want to be sure we can serve it and meet the demands of the clients. We are very confident about the US market. We have the experience. We just need to be more competitive, not necessarily as a brand but as an origin. Greece has a reputation for cheap kiwifruit, but Zeus is known for its high quality and high standards of environmental protection. We need to communicate this to the US market."
As for Zeus's number one export market, the UK, the uncertainty of Brexit lingers, but will not deter the company. "We plan to increase our volumes to the UK, which has been our top market since the early days of Zeus," revealed Manossis. "Like Spain, it is an important and strong market for us, demanding high quality and high volumes. If there are import taxes following Brexit, of course it will affect our business, but we are in talks with our customers to ensure everything continues to work smoothly."
Enjoyed this free article from Eurofruit Magazine and its team of editors? Don't miss out on even more in-depth analysis, plus all the latest news from the fresh produce business. Subscribe now toEurofruit Magazine.