Save Britain from looming food crisis by unlocking a green transformation in farming, think-tank urges in new report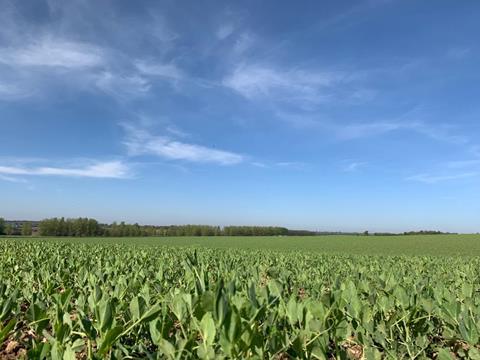 A new report from cross-party think-tank Demos, supported by McCain Foods, has called for government action to help farmers adopt regenerative farming practices.
Sowing Resilience: A policy framework to expand regenerative farming argues this could improve food security, help tackle climate change, advance the UK's biodiversity and boost profits for British farmers.
The report outlines the need for ambitious new approaches to help the UK meet its food needs and its environmental commitments.
Sir Robert Goodwill, Chair of the Environment, Food and Rural Affairs Select Committee and former Defra minister, wrote the report's foreword, stating: "As farmers adapt to the post-Brexit agricultural support system, feel the increasing effects of climate change and face evermore volatile international supply chains, we must accelerate the adoption of regenerative farming."
The report is based on polling of over 1,500 participants and discussions with farmers and policy experts. It found that while most people (7/10) aren't familiar with regenerative farming there is strong cross-party support for it in principle. 69 per cent of Conservative voters and 68 per cent of Labour voters are in favour of its widespread adoption. Greater biodiversity (41 per cent), reduced emissions (40 per cent) and farming being more resilient to climate change (36 per cent) are seen as the three most important benefits of it.
Consumers who expressed support also indicated they would be willing to make trade-offs, despite the ongoing pressures of the cost-of-living crisis. Over half of consumers who had a view said they would be happy to pay more for food if it led to reduced emissions (46 per cent vs 35 per cent who said they wouldn't), farmers being more resilient to climate change (45 per cent vs 33 per cent) and greater biodiversity (45 per cent vs 39 per cent).
The report identifies three key barriers to expanding regenerative methods faced by farmers across the country: poor financial incentives to transition, caution about shifting methods, and difficulties in implementation. It calls for the Government to take action on these challenges. Its policy recommendations include:
More financial support should be provided to farmers to cover transition costs: Defra should significantly increase the Sustainable Farming Incentive (SFI) 'management payments'. They should include the option for additional sums to cover specific capital investment costs involved in the transition. This scheme should be guaranteed for at least seven years, given the time that regenerative farming takes to restore profits without government payments.
A Government-led 'Regenerative Farming Task Force' and peer-to-peer 'Regenerative Farming Learning Groups' should be set up: Led by Defra, a Task Force should bring together representatives of farming, consumers, rural communities, environmentalists and other government departments to help evaluate, refine and deliver policy solutions and empower a grassroots push. Learning Groups should be developed by Defra to enable farmers to advise one another.
Core standards should be developed for food imports with regenerative principles: The government should protect farmers using regenerative methods from being undercut by food imports produced using low environmental standards by drawing up a set of core standards that can be used for all future trade deals.
Dan Goss, researcher at Demos and co-author of Sowing Resilience, said: "Recent global events have exposed just how precarious food security in the UK is. With climate change and biodiversity loss set to make things even worse, and British farmers struggling in the wake of Brexit and in the face of a looming food crisis, the Government needs to pull every lever it can.
"An ambitious reform agenda with regenerative farming at its core can unlock a new agricultural transformation that is fit for the 21st century and can benefit the environment, farmers, consumers, and communities."
James Young, vice president of agriculture at McCain Foods GB, said: "The case for making our food systems more sustainable and resilient has never been clearer. At McCain, we believe agriculture can, and must, be a core part of the solution, which is why we have partnered with Demos to explore in detail what measures should be put in place to best support farmers to make the transition.
"For our part, we have committed to implementing regenerative agriculture practices across 100% of our global potato acreage by 2030 and are working closely with our growers to achieve this goal. We're providing financial support, trialling regenerative practices and facilitating knowledge sharing through our demonstration farms, and collaborating with industry through forums such as the Sustainable Markets Initiative. However, we know that to really scale regenerative agriculture and help farmers thrive, all stakeholders – including Government – must work together."
The research by Demos was based on two nationally representative polls: one in April 2023 with 1,502 participants and one in May 2023 with 1,509 participants. The findings were also based on two workshops with farmers and a roundtable with people working in agricultural policy. The research was supported by McCain Foods.
McCain Foods is the UK's largest manufacturer of frozen potato products, employing over 1,300 people across five processing facilities and a dedicated seed potato business. It is the largest purchaser of the British potato crop, buying around 15 per cent of the total market from 250 growers. McCain said it is committed to implementing regenerative agriculture practices across 100 per cent of our global potato acreage by 2030.