Company becomes Britain's first berry supplier to import strawberries using new SPA Airlite punnet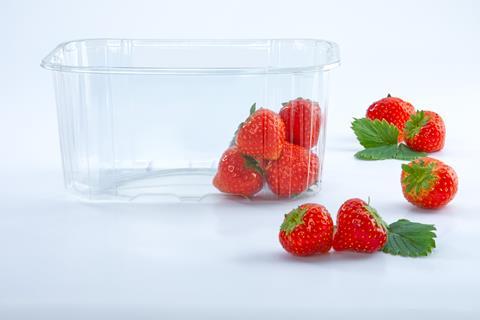 Angus Soft Fruits is set to become the first UK company to import berries using an award-winning new reduced-plastric punnet that cushions berries to improve quality and recyclability.
The Scottish berry supplier is adopting the SPA Airlite punnet, designed by Sharpak Aylesham, for strawberries during its 2022-23 import season, starting with Dutch strawberries this autumn – a move that follows a successful pilot using the packaging for Scottish strawberries in the summer of 2022.
The punnet, which won 'Rigid Pack of the Year' at the UK Packaging Awards in 2021, has a cushioned base that protects the berries and eliminates the need for an additional bubble pad, making the packaging fully recyclable and cutting plastic weight by up to 20%.
Angus Soft Fruits estimates that it could reduce the amount of plastic in its import packaging for Dutch strawberries by around 5.72 tonnes a year.
The punnets, which also contain up to 80% recycled content, are available for 227g and 250g packs, with plans to trial and potentially roll out additional sizes in future.
Some larger packs will still use bubble pads, but Angus Soft Fruits said it is working closely with its packaging suppliers to remove the pads where possible to aid recycling while ensuring the berries are still protected.
Dr Catherine Russell, sustainability and ethical co-ordinator at Angus Soft Fruits, said: "We are passionate about promoting a high standard of environmental trade practices across our farming and packing operations in the UK and overseas.
"Packaging is just one of our five focus areas, which include carbon footprint reduction, supporting biodiversity, managing food waste, responsible packaging and changing behaviours."