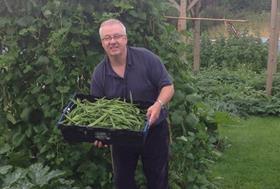 Attempting to feed more than 40,000 hungry football fans on matchday might seem like biting off more than you can chew, but for Aston Villa's executive chef Peter Reed it's very much his meat and drink.
Reed, who is due to speak about foodservice trends and local sourcing at this year's FPJ Live conference at the National Motorcycle Museum in Birmingham on 30 April, has overseen a major shift in attitudes towards food among the club's staff and supporters over the past two decades.
During that time, he has established a culture of high-quality cuisine at Villa Park's various restaurants and 95 executive boxes.
And since 2010 the stadium's newest venue, the award-winning Restaurant VMF, has established a reputation as one of the Midlands' leading fine dining venues, serving dishes that incorporate locally sourced produce, all prepared by a team of young apprentice chefs.
At FPJ Live, organised by the Fresh Produce Journal, Reed will explain how Restaurant VMF is emulating Aston Villa's approach to nurturing footballing talent by cultivating those culinary stars of the future.
He will also discuss the club's work with local youngsters to grow and harvest fresh produce as well as its commitment to sustainability, which is underlined by the 4,000m2 allotment just a mile or so from the stadium that it acquired four years ago to grow its own fruit and vegetables – including berries, rhubarb, herbs, asparagus and potatoes.
The scheme has apparently been so successful that the allotment is now also supplying Birmingham-based wholesaler Interfruit, a supplier to many of the city's leading hotels and restaurants.
To book your place at FPJ Live, visit www.fpjconferences.com and click 'Sign up here'.