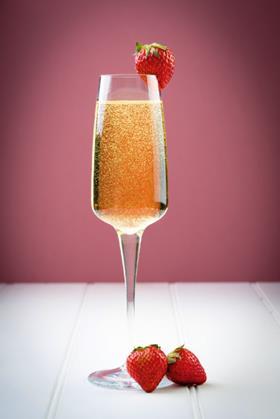 Softfruit breeder Angus Soft Fruit is pitching its AVA Magnum variety as the best strawberry to partner Prosecco in its latest summer marketing push.
The group, whose growers in north-east Scotland exclusively produce its AVA berries, said head breeder Lucy Slatter selected this particular variety for its sweetness, which perfectly complements the dryness of prosecco.
'It's no secret that strawberries and prosecco are a match made in heaven. We've carefully selected AVA Magnum as the perfect prosecco accompaniment due its exceptional strawberry flavour. Not only does this variety become beautifully iridescent in a glass of bubbly, but also adds a rich appealing colour and sweet flavour that compliments the dryness,' she said.
AVA berries are produced by a grower group based across the north-east coast of Scotland, Perthshire and Fife, where, they say, there is the ideal micro-climate for producing the perfect strawberry due to its warm days, cool nights, and just the right amount of daylight hours.
AVA strawberries are currently sold as premium lines in UK supermarkets, such as M&S and Aldi's Specially Selected, Morrison's The Best, Co-op's Irresistible, and Sainsburys' Taste The Difference ranges.
AVA Berries was established by fruit growing and breeding experts Angus Soft Fruits.