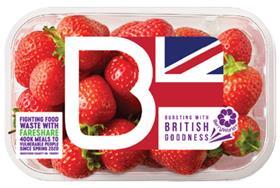 To mark Zero Waste Week BerryWorld has launched a food waste awareness campaign highlighting its 400,000-meal contribution to FareShare.
Back in Spring 2020, the major berry supplier saw an opportunity to support vulnerable families and individuals while tackling food waste by partnering with FareShare. Since then, BerryWorld growers have been diverting fresh berries which have been utilised to provide healthy meals to those in need.
FareShare is the UK's largest food redistribution charity, working with nearly 11,000 frontline charities and community groups nationwide. Since the start of the partnership, BerryWorld and its growers have donated fruit and funds to the organiation, supplying the equivalent of 400,000 healthy meals.
BerryWorld grower Tasker Partnership has been one of the largest fruit contributors to FareShare, ensuring out-of-spec fruit doesn't go to waste.
Stephen Tasker, partner of The Tasker Partnership, said: "Composting nearly 10 per cent of all the fruit that we have invested time and energy in to grow, is soul-destroying. Knowing 100 per cent of all our fruit is eaten makes the effort worthwhile. In any surplus food situation, there are always vulnerable people who would gratefully benefit from it."
Last Christmas, BerryWorld launched a campaign to 'share the berry goodness', raising over £5,700 for FareShare. Now, at the occasion of Zero Waste Week in the UK, the leading berry supplier is running a campaign on its branded BerryWorld brand range, available at Ocado, to continue to raise awareness of food waste and FareShare's great work.
Adele Fash, commercial manager for produce at FareShare, said: "It has been an absolute delight for FareShare to be able to access quality strawberries where the product life is at its premium. BerryWorld growers responded quickly in embedding FareShare into their operations, successfully diverting unharvested fruit to those in need."
Emma Henry, senior responsible sourcing manager at BerryWorld UK, added: "We are immensely proud to have reached this milestone with our growers. It's great to know that only this year our out-of-spec fruit has supported over 1,300 charities and community groups in providing healthy meals to vulnerable individuals, including people on low income, school children, people with health conditions and refugees and asylum seekers, among other groups."