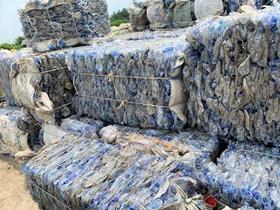 BerryWorld has continued its commitment to reducing plastic waste by extending its use of Prevented Ocean Plastic to supermarket own-label punnets.
The move follows a successful trial on its BerryWorld-branded range last season when the company became the UK's first berry supplier to introduce the eco-friendly packaging.
This season, the supplier aims to help prevent 222 tonnes of plastic from entering the ocean, equivalent to 8.9 million water bottles.
Supplied by Bantam Materials to Sharpak Aylesham, and certified by OceanCycle, Prevented Ocean Plastic refers to plastic bottles collected from the shoreline before being responsibly converted into high-quality raw material.
Prevented Ocean Plastic punnets have a minimum of 80 per cent recycled content, going up to 90 per cent, according to BerryWorld's operations director Wickus Olivier.
Working in partnership, Bantam and Sharpak haverecycledover 10billion plastic bottles to date, collected from beaches inat-risk coastal areas such as South East Asia, South America and the Galapagos Islands, the Mediterranean, Central America and the Caribbean.
BerryWorld'sannouncement follows similar news from Berry Gardens, whichhas also started usingPrevented Ocean Plastic in most of its supermarket own-label punnets.
Raffi Schieir, director of Bantam Materials, said: "We developed Prevented Ocean Plastic to be part of the solution to ocean plastic pollution and are delighted to be working with BerryWorld to offer its customers a better plastic choice.
"By choosing products made from recycled content, it ensures recycling has already happened and use of new plastic has been reduced."
The Prevented Ocean Plastic programme sees plastic waste captured and reused as part of the circular economy. This has a  positive environmental impact by significantly reducing the amount of plastic that ends up in the ocean and thereby reducing harm to marine life. It also helps reduce greenhouse gas emissions by recycling existing waste instead of creating new plastic.
In addition to the packaging rollout, BerryWorld is trialing two pick-and-place robots in its packhouses this season, for medium and large-capacity throughput.
In a bid to mitigate potential labour shortages, the supplier is also continuing to trial harvesting robots across multiple growing environments including glasshouses and outdoor polytunnels.