Major supplier's proprietary and exclusive soft fruit varieties recognised again for superior taste by prestigious International Taste Institute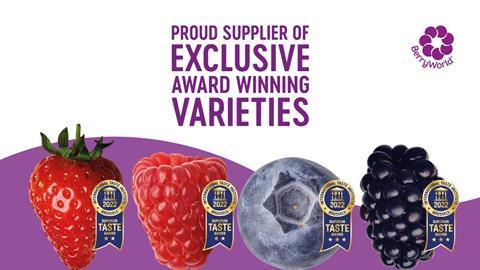 Four of BerryWorld's proprietary and exclusive varieties have once again been awarded Superior Taste Awards by the International Taste Institute.
The company's varietal portfolio has now been recognised with 13 awards by this institution since 2018.
This year's winning varieties included proprietary raspberry variety BerryWorld Jewel (from the BerryWorld Plus breeding programme), as well as three exclusive varieties: the BerryWorld Midnight blackberry (from the Beekers Berries breeding programme), the Eves Delight strawberry (from the Edward Vinson Ltd programme), and the BerryWorld Eureka blueberry (from the Mountain Blue programme).
Over the years, the International Taste Institute has evaluated more than 20,000 food and drink products from around the world with its jury of prestigious chefs and sommeliers. Strict tasting methodology makes a Superior Taste Award among the most renowned independent certification worldwide.
BerryWorld varieties were the only berries to pick up awards in 2022 and were evaluated on several factors, including appearance, aroma, texture, and taste.

BerryWorld Eureka blueberries and BerryWorld Midnight blackberries received a score of over 90 per cent from the jury and were granted a Superior Taste Award with three stars, while BerryWorld Jewel raspberries and Eves Delight strawberries received a Superior Taste Award with two stars.
"These awards recognise our commitment to pursue our vision of growing the berry world together," said BerryWorld Group CEO Adam Olins. "Thank you to our partner breeders and growers for their efforts to continuously breed and grow better berry varieties."