Taking place at the Yorkshire Event Centre on 22 and 23 November, the 'seed to shopping trolley' event will showcase the latest trends and technology in the sector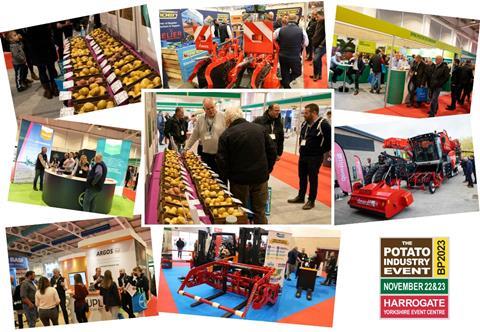 The UK potato sector is gearing up for the British Potato Show on 22 and 23 November, promising networking opportunities, tech demos and seminars.
Held at the Yorkshire Event Centre in Harrogate every two years, the event is attended by exhibitors and delegates involved in the growing, handling, processing, and retailing of potatoes.
Visitors will have the opportunity to connect with farmers, suppliers, and experts in the potato sector; discover the latest advancements in potato farming, from state-of-the-art machinery to cutting-edge cultivation techniques; and attend seminars on the latest trends in the potato category, sustainability efforts, and the future of potato production.
In addition, the National Potato Industry Awards will be held at the Old Swan in Harrogate on Wednesday 22 November, the opening evening of the show.
Companies can collect BASIS and NrOSO points by attending the event and going to the BASIS/NRoSO desk in the main foyer.
Visitors can register for the event free of charge here.