UK growers on track to produce usual crop in spite of escalating challenges, the association reveals
Against the odds, British growers are on track to produce the usual 100,000 tonnes of tomatoes this year, according to the British Tomato Growers' Association.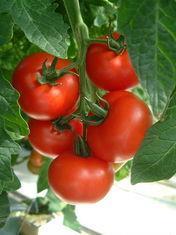 The combination of the rising cost of gas, disrupted global supply chains, ongoing labour shortages and low light levels in some parts of the country have made this a tough year for growers.
"British tomato growers haven't faced anything like this before," says Paul Faulkner of Evesham Vale Growers, which grows tomatoes in Worcestershire. "I've been in the sector for two decades and this is the toughest year we've faced. It's been a perfect storm and as a result has been very hard work for everyone across the industry. Covid was tricky but this goes way beyond that. Fortunately, as tomato growers we are a resilient bunch."
In March, as news of possible tomato shortages spread, Google searches for 'British tomato' jumped up 104 per cent and superfans began phoning the offices of the British Tomato Growers' Association seeking reassurance.
Indeed, data from insights specialist Kantar shows that tomato sales are up by +2.7 per cent from last year, and demand for premium is soaring – up +32 per cent compared to 2020. Triumphing varieties include Piccolo, up by +28.6 per cent since last year, Vine Tomatoes, up by +19 per cent and Cherry on Vine +16.9 per cent.
British tomato growers have needed to move fast to work with retail partners and suppliers on timings and logistics. Some have delayed planting and then ramped production up to make the most of better light levels as spring moves into summer, others have juggled staff shifts to make sure fruit reaches shops at the right time.
"All this change is no mean feat. It might sound easy but it's required herculean efforts from British growers," says Julie Woolley of the British Tomato Growers Association.
"As a sector we're ahead of the curve in doing more with less – over the years we've seen incredible innovation around reducing the energy needed to grow tomatoes and tapping into renewable energy sources. There has also been significant investment in technical aspects of growing – honing techniques so we know exactly how to get the best out of a tomato plant."
Latest reports from members of the British Tomato Growers Association, which gathers data quarterly, show that this effort has paid off – British tomato production is back on track and set to reach its usual levels of 100,000 tonnes of tomatoes this year. This equates to around a fifth of the tomatoes consumed by Brits annually.
"Against the odds, we are set for an excellent quality crop with good supply levels over the coming months," says Woolley.
"I'm really proud of how the sector has stepped up. As you'd expect, we take the growing of British tomatoes very seriously. It's our job to get the most out of the season so people get the tastiest, healthiest produce at an affordable price. Britain produces amazing food and increasing what we grow here is important for food security, local jobs and our resilience as a country.
"Across the nation growers and producers are doing their bit and we know people are looking forward to getting their hands on delicious British tomatoes. Now it's time for government to look at how they can support us too."
Established in 1997, the British Tomato Growers' Association champions the British tomato and represents 90 per cent of commercial growers in the UK.
There are 20 tomato nurseries in the UK that produce in total 100,000 tonnes a year for UK consumption.
Every year, between May and June, the British Tomato Growers' Association organises British Tomato Fortnight, which brings British tomatoes into focus as the season peaks. This year British Tomato Fortnight runs from 23 May to 5 June.