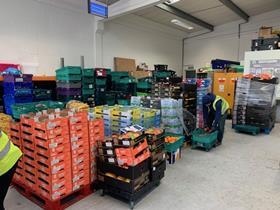 City Harvest has called on the capital's food businesses to continue their incredible support after the coronavirus outbreak has subsided.
The food distribution charity reported that grocers, bakeries and fishmongers have been "incredibly generous" in the past two weeks, with food donations reaching unprecedented levels.
But it said it really needs commercial businesses to look past their bottom line and start donating whenever they can, both during the current crisis and after the coronavirus threat has eased.
"I understand that commercial businesses have to make money – it's not long since I left the commercial world myself," saidCOO of City Harvest London Nikki Tadema.
"There is so much food around at the moment, because the restaurants have all closed and the grocers, the bakeries and the fishmongers have all been incredibly generous. However, we're going to need to see this continue and donations from any business or collective of fruit and vegetable businesses will always be gratefully received."
Founded in the English capital in 2014, the organisation collects surplus food from all segments of the food industry including restaurants, grocers, manufacturers, wholesalers, hotels and caterers.
It then delivers this food to charities such ashomeless shelters, soup kitchens, children's programmes, centres for the elderly, and refuges for women experiencing domestic violence.
Inundated with donations
Generally, City Harvest receives 35-40 tonnes of food a week, but in the last 10 days it has dealt with 124 tonnes, having to ask landlords for extra warehouse space and bring in more delivery drivers. There have been up to 60 vehicles in the charity's yards at any one time.
This week, City Harvest –which isbased in Acton, West London, but also runs a facility out of New Spitalfields Market –launched aGoFundMe pushto raise at least £50,000 to cover its significantly increased activity.
Tadema explained thatthe nutritional challenge created by the coronavirus pandemic is causing a wider set of societal problems – problems that are certain to become ever more acute when the virus has been eradicated.
Now more than ever, the huge contribution of organisations like City Harvest, FareShare and The Felix Project has been put into sharp focus. Not only do they greatly reduce the amount of food that goes to landfill, they also support some of the UK's most vulnerable people and reduce the burden on the NHS.
Market support
Earlier this week, a collective of New Spitalfields tenants donated a large volume of fruit and vegetables to City Harvest as part of the market-wide effort to support the NHS and charities in their local communities.
"The donation from the Spitalfields tenants was fabulous," said Tadema. "Particularly in the East End, where because of the cultural mix, fruit and vegetables are a huge part of what we do. If we have 3-4 pallets a week of fresh produce of the quality we received yesterday, that's enough for around 3,000 meals.
"Of course, we know we are an outlet for product that hasn't been sold and we play a big part in reducing the volume of food that goes to landfill, but the days of sorting through pallets of rotten product to find stuff we can use are gone."
Beyond the crisis
While the last few weeks have exacerbated the plight of so many people in need in London and placed an additional strain on the already busy City Harvest team, the future is already occupying Tadema's mind.
"Hopefully we can look forward to bigger and bigger donations in the future," she said. "We are already looking at the post-Covid landscape, analysing how much more food we are going to need and looking at ways to redistribute it.
"Sadly, it does not look good. There will be far more homeless and unemployed people when this is over and demand from food banks and various charities supporting those in need of food will increase dramatically.
"We are already distributing meals to 300 charities across London and there are more than 130 on the waiting list, plus 67 projects set up during Covid, which desperately need our services."
If you have fresh produce to donate or you would like to volunteer for City Harvest, phone 020 7041 8491 to speak to one of their team.