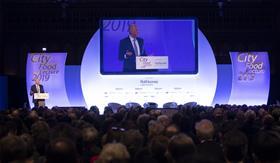 Trust will be the currency of the next decade for the global food system, the chief executive of the world's largest foodservice company has said, stressing the importance of transparency and sustainability, and how technology can drive progress.
Giving the annual City Food Lecture at London's Guildhall, Dominic Blakemore highlighted trust as the most important quality for any food business to create as he envisaged what the global food system will look like in 2050, when the world's population is set to exceed nine billion.
He added that trust is becoming more and more important in the food sector given the changing priorities of consumers, noting that millennials and Generation Z now outnumber baby boomers, and by next year more than half of the workforce will be millennials or younger.
Recent surveys referenced by the speaker show that six in 10 consumers refuse to buy products from companies they do not trust, and 90 per cent of millennials say they are more likely to buy from companies that support local issues.
According to Blakemore, trust is already driving a number of important trends in the food system, namely the growing desire for transparency, the rising demand for locally-produced food, a thirst for experience over 'stuff', and efforts to make food healthier and tackle a national health crisis in the UK.
The way to build trust with consumers, he told the audience, is through transparency and sustainability – building trust "literally from the ground up".
Testing products' provenance; having respect for farmers; paying a fair price to allow them to reinvest in agriculture; caring about workers' rights and animal welfare; protecting resources; and contributing to communities were all highlighted as important measures for food companies to take.
However, Blakemore warned that they are not future-proof – "arguably, today's agricultural model is fundamentally broken, and it will not sustain the population without destroying the planet in the process," he said.
"Thirty-five per cent of climate change comes from agriculture today and a third of food is wasted in the supply chain. More than ever, progress is being linked to the common good. Sustainability is no longer an option, it's an absolute necessity."
The role of technology
Technology can be a force for good where sustainability is concerned, Blakemore believes. Advances such as blockchain technology, vertical farming and the digitisation of agricultural production will lead to "an explosion of big data", he said, challenging future generations to harness this information for environmental good.
This 'big data' has the potential to allow better forecasting of food demand, allowing the food industry to manage supply in a much more accurate way. "If we think about it, demand knowledge today is unsophisticated," Blakemore said, "which is why we produce an abundance of food based on emotion and preference, almost blind to what actual demand may be.
"Large retail displays of abundant fruit and veg, which inevitably end up in landfill, could be a thing of the past as the future steers more to a digitally, demand-led approach."
Nevertheless, population is a major challenge for the future of the food industry, and earlier in his speech Blakemore noted that, "rather scarily", global demand for protein will increase by around 80 per cent by 2050. This challenges us to create a system that feeds the planet without destroying the environment.
One way of doing this is to switch to a more plant-based diet and to start eating lab-grown meat, with Blakemore referencing disruptive businesses such as Memphis Meat, a US start-up that develops beef, chicken and duck from animal cells, and Puris, which manufactures organic protein from peas and other vegetables.
On the subject of technology, Blakemore's greater focus was on how it will change the consumer experience and change the way that food businesses operate.
"The challenge for all of us is how do we look differently at the food industry through the eyes of tech as it evolves from being mostly linked with payment transactions to a broader enabler across the end-to-end food industry," he said.
"Food has been the laggard in tech development and until recently has been merely been utilising online to drive offline. What I mean by that is where digital marketing is used to influence a non-digital event, such as buying food in store."
Experiential shopping
He conceded that it is almost impossible to predict the future "as revolutionary tech may not have been invented yet", but he predicted that "the use of voice, video and virtual will only rise in food commerce".
"Consumers will get projected 360-degree visualisations of food right in front of their eyes. From choosing meals from a menu, to home cooking, to ingredient information, portion sizes, calorie and nutrition info, it will all be visual and most likely audio."
Blakemore expects 3D printing to "infiltrate the food industry in a more pervasive way", imagining a time when we use food robots that download recipes and 3D-print our meals from cartridges of ingredients.
Meanwhile, artificial intelligence could mean we all have a "digital self, who knows more about us than we do today", with our medical and dietary information programmed along with our taste preferences.
"Our digital self is likely to deal with any food-related decisions based on multiple data inputs, and be able to forward predict these too," Blakemore said. "Amazon's Alexa is already capturing preference data just by listening.
"Delivery solutions will also be revolutionised beyond recognition," he added, saying robotics and drones will improve efficiency and reduce energy costs, thus minimising the impact on the environment.
Ultimately, Blakemore said he is "convinced" that the food businesses that will flourish in the next decade will be those who "interlink sustainability and strategy".