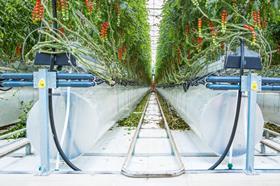 Perhaps it's unsurprising that the notion of growing food in the desert would go from being an eyebrow-raising, out-of-the-box thought to a realistic, even necessary, strategy in less than a decade. In an age of continually broken record global temperatures and ballooning population numbers, no stone can afford to be left unturned when it comes to the task of feeding the world, least of all in the arid Middle East region. Out of 33 countries predicted by the World Resources Institute to face extreme water stress by 2040, 14 are located in the Middle East.
In recent years, countries including the UAE, Qatar and Jordan have all invested in desert farming. UAE-based agricultural technology firm Pure Harvest plans to establish a 3.3ha site in Nahel to create the country's first high-tech commercial-scale greenhouse for year-round tomato production. The company utilises a "semi-closed climate-controlled growing system", which has been purpose-built to overcome the challenges of year-round production in the Gulf. The company's pressure climate control technology can apparently be used for a variety of crops, including tomatoes, bell peppers, cucumbers, aubergines and strawberries.
According to the company, the aim of the project is to supply premium produce to retailers, airlines and hospitality distributors in order to replace imported fruit and vegetables. The UAE is currently reliant on imports for around 80 per cent of its food needs.
"Pure Harvest's tech-enabled approach to arid climate agriculture offers a potential 'third-way' through which regional actors can not only achieve a sustainable form of food security, but also eventually construct export-oriented agri-businesses that would create important new sources of foreign exchange, while supporting the diversification of regional economies," says David Scott, president of the Investment Diplomacy Group (IDG) and executive director of economic affairs at the Executive Affairs Authority.
"Pure Harvest is bringing the Middle East into the next generation of agriculture," explains co-founder Sky Kurtz. "We are committed to delivering a true food and water security solution to the region. By deploying large-scale, high-tech greenhouses and advanced growing methods, we will deliver sustainably grown fresh fruit and vegetables year-round right here at home from our nearby farm straight to you. Soon you will be able to eat fresh, healthy and delicious fruits and vegetables throughout the year, always available at a lower cost than imports."
Abu Dhabi-based producer Elite Agro is one of the leading producers of locally-grown produce, including tomatoes, peppers, aubergines and lettuce. According to agriculture engineer Mohammad Rashid Sulaiman Al Naqbi, his team uses everything from solar energy to imported seeds and bumblebees from the Netherlands to improve crop yields at the farm.
"Our biggest challenge is the weather," he says. "If it's too humid, flowers become sticky and pollination won't take place. And high humidity is also the best climate for disease. So we've got to work to find the right balance."
September saw the inauguration of the Sahara Forest Project launch station in Jordan, a unique three ha facility located outside the port city of Aqaba. The project, realised with financial support from the European Union and the Norwegian government, utilises sun, saltwater, desert areas and CO2 to produce food, freshwater and clean energy.
"The Sahara Forest Project demonstrates that innovative application of technology has the potential to revolutionise our land use systems in a way that benefits the climate, people and business," says the Norwegian minister of climate and environment, Vidar Helgesen.
Joakim Hauge, CEO of the Sahara Forest Project, reveals that the ambition of the project is to revegetate desert areas and contribute to social development through the creation of green jobs. "We want to achieve this through profitable production of food, freshwater, biofuels and electricity," he says. "Everything we do on the ground in Jordan is measured against three goals. Our activities need to be good for people, good for the environment, and good for business."
For Qatar, food security is the primary concern, as laid out in the government's National Vision 2030. Imports currently account for more than 90 per cent of the goods consumed by this population of two million, leading to periodic food price surges and shortages in supply. Due to limited supplies of water for irrigation, companies and investors are examining the possibility of growing fruit and vegetables using hydroponics.
The country is expected to achieve approximately 50-70 per cent self-sufficiency in vegetable production by 2030, when 1,000 ha of land will be under cultivation, according to Hamad Hadi Al Hajri, a senior official of state-backed Hassad Food Company. Given Qatar's recent isolation by its Gulf neighbours, such efforts are essential if the country is to achieve any semblance of food security.