Driscoll's berry varieties awarded for superior taste by International Taste Institute
Five different Driscoll's berry varieties have been awarded with the Superior Taste Award 2023, with two varieties scoring the highest 3-star rating.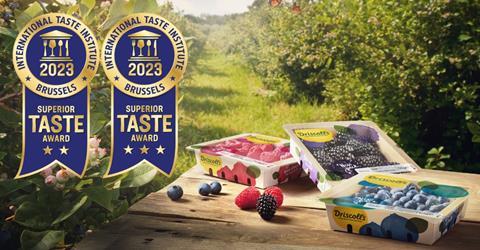 The Superior Taste Award is a certification granted by the International Taste Institute to food and drink products that went through a positive taste evaluation by a panel of more than 200 professional taste experts.
The sweet-eating Driscoll's Victoria blackberry variety and the Driscoll's Reyna raspberry variety were awarded with a 3-star rating. These were both declared 'Exceptional Products'. Another three Driscoll's varieties received the 2-star rating, which stands for "Remarkable Products": Yazmin raspberries, Raymi and Rosita blueberry varieties.
Commenting on these latest accolades, marketing manager of Driscoll's EMEA (Europe, Middle East & Africa) Marieke Appel, said: "This is a huge result for everyone at Driscoll's and we're super proud! It is an especially big win for the skill of our R&D teams and growing teams around the world who come to work every day determined to deliver the very best tasting berries in the world. Huge thanks are due to them all, as well as all the judges who clearly recognize an exceptional berry when they taste one!"
These Driscoll's varieties and more will be presented on the Driscoll's stand during the Fruit Logistica event in Berlin.