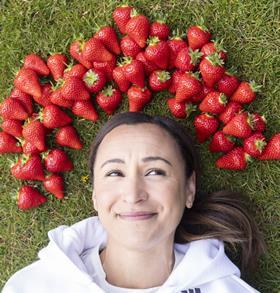 Former Olympic champion Dame Jessica Ennis-Hill has been unveiled as Berry Gardens' new ambassador as part of a six-figure marketing investment to boost soft fruit consumption.
The health-oriented More Than Taste campaign will be the berry cooperative's biggest-ever marketing investment, including"hyper-targeted" digital advertising, out-of-home advertising, social and influencer activity, and PR with Ennis-Hill.
Ultimately, the aim is boost shoppers' awareness of berries' various health benefits, to get people eating berries at new meal occasions, and to increase sales.
The London 2012 heptathlon champion, who has now retired from athletics, will encourage consumers to see Berry Gardens' specific varieties as healthy products deserving a bigger role in their diet, especially in light of the Covid-19 pandemic.
These varieties includeDriscoll's Maravilla Raspberries, Driscoll's Victoria Sweet Blackberries and Driscoll's Zara Strawberries.
Ennis-Hill, who also won the World Championships three times, said:"Whether it's Victoria blackberries, Zara strawberries or Maravilla raspberries, they're big, sweet and packed full of so many good vitamins and minerals which are great for so much of your body.
"Whether you're a professional athlete, a regular exerciser or someone who is 'just' busy all the time, they're the most delicious health foods I know.
"I also think that in Britain today we have a job to do in encouraging people to make healthier food choices.I am a huge advocate of being active but also of eating healthily. When it comes to snacking, Berry Gardens' premium British strawberries, raspberries, blackberries and blueberries are just delicious and good for you.
"They're all low-cal, low-fat, low GI and great for you whatever kind diet you follow whether full carnivore, flexitarian, pescatarian, vegetarian or entirely plant-based."
Nick Allen, chief executive at Berry Gardens, added: "We've partnered with Jessica because, while berries are already the country's most popular fruit, they are very often bought by consumers for their sweet taste and paired with creams and sugars in desserts, not because of their amazing health benefits.
"People in Britain have arguably never been more aware of the need to eat healthy, natural, unprocessed food as they are today, and our specific varieties of berries are packed full of vitamins, minerals, antioxidants and anthocyanins. This makes them great for brain, eye, heart, gut and skin health, as well as helping reduce inflammations and boost immune systems.
"Shouting louder about these benefits gives consumers another reason, beyond great taste, to buy theMaravilla Raspberries, Victoria Sweet Blackberries, Zara Strawberriesand British blueberries we're proud to grow and supply. Jessica is the perfect ambassador to help us to do that."