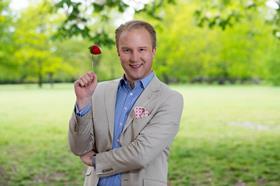 Scottish brand AVA Berries has teamed up with renowned 'etiquette expert' William Hanson to show the public the socially acceptable way to enjoy strawberries this summer.
A massive 256 million punnets of strawberries were sold in the UK last summer, with June and July proving to be the most popular months and Scots munching through no less than 20 punnets every second.
And now it turns out there is a 'proper' way to serve and enjoy strawberries. Hanson claims that a 'strawberry fork' - or a regular fork if you do not have one - should be used in formal or semi-formal occasions, and that all discarded stems should be left on the discard section of the plate, which is to say the top left-hand side.
He adds that during informal situations it is perfectly acceptable to pick up a strawberry using your hands and to eat them whole.
He also says that good hosts will always serve the best strawberries on offer, so no one needs worry about hulling anymore - a technique previously used to remove harder, woodier cores when strawberries are not quite at their best.
Hanson said: 'Frankly, I was shocked there wasn't already a dedicated guide on the etiquette of eating one of the most British of fruits, the succulent strawberry. And for however juicy and delicious these fruits may be, it's important to eat them elegantly, which is why my new guide is timely. Even if quality fruit, like AVA Berries, are only available for some of the year - displaying good manners is always in season.'
AVA Berries are currently sold as premium lines in supermarkets including Aldi's Specially Selected, Morrisons' The Best, Co-op's Irresistible, and Sainsburys' Taste The Difference ranges, as well as in M&S stores.
Jill Witheyman, head of marketing at AVA Berries, said: "Strawberries are synonymous with summer time; whether that is enjoying them on a picnic or when watching Wimbledon – strawberries offer a taste of summer.'