Tim O'Malley, group MD of Nationwide Produce, reflects on the weather challenges facing growers of British vegetables as production is driven abroad and the sector lacks support from government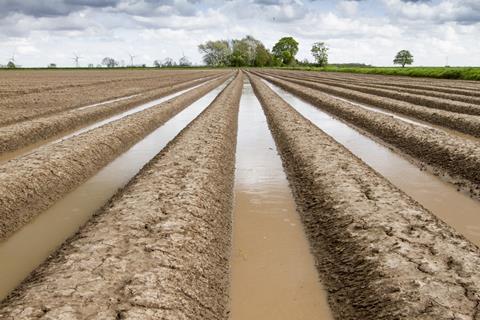 I was contacted by a journalist recently asking me to comment on a recent report that shows consumption of fresh veg in the UK is down year on year. No great surprise there, I suppose, during a cost-of-living crisis and a period of rampant inflation.
My view is there's no great concern in the UK vegetable industry about falling volumes as growers have bigger fish to fry – like making a profit, for example. Generally, veg supply was tight last season (2022/23), and it looks like it will be tight again this season (2023/24). The reasons for this are manifold, but the main cause, by far, is not Brexit, it's not inflation, it's not vegetable growers throwing in the towel, it's not desperately short labour supply – it's the weather.
Last season we had a red-hot summer, followed by an autumn that was more like a summer, followed by a deep freeze. This season, we've had a cold, wet spring which delayed plantings, particularly for spuds. And with the exception of June, this was followed by a cool summer with low light levels. Now it's so wet we're leaving crop in the ground to rot. Unfortunately, the worst-affected crop by far is our biggest: potatoes.
Plantings of spuds were already down by around 10 per cent after the last dreadful growing season. On top of this, we now have around 10 to 15 per cent still in the ground. Some of this crop, which has sat in water for far too long, won't be lifted. The rest of the potatoes that are lifted will be of poorer quality with high levels of bacterial and fungal rot. And we're hearing of similar problems in other major potato-growing areas on the continent, particularly Belgium, France, the Netherlands and northern Germany. Worst affected is Ireland, and in some parts of the country as much as 50 per cent of the crop is still in the ground.
The spot price of spuds is currently at least double what you would expect at this time of year, and it looks like it's only going one way. That would be welcome news if most UK growers sold their spud crop on the spot market. But they don't. Most are tied into retail, chipping or crisping contracts so are likely to suffer losses again this season. And I'm hearing the UK retailers are seriously still insisting on their give-away Christmas veg promotions. Don't get me started on that one.
The Farmers Guardian is estimating the UK crop to be as low as 4.14 million tonnes this season. That may sound like a lot, but as recently as 2017 we had a 6.2mt UK spud crop, and in the 1990s we regularly harvested crops in excess of 7mt. Fact: this season will be the lowest GB potato crop ever recorded.
Other crops affected by the recent storms are brassicas such as caulies and broccoli, where again spot prices are at least double the norm after the weather brought the UK season to an early end. As I write, I see an email from one of our traders saying we're buying French cauliflower today at £22 per box – about three times the norm. Carrots are a fresh-lifted crop in this country, so we'll have crop write-offs and quality issues there too as a result of them sitting in water for too long.
My father is a Lancashire farmer and he used to say: "Prepare for a major weather event around once every seven years." We seem to get several every year nowadays. When you add in all the other challenges UK growers are facing, it's no wonder we're seeing more and more production of veg being driven abroad.
As a nation we import around 40 per cent of our food, which many would say is too much. For fresh produce this figure jumps to nearly 70 per cent and sadly I can only see it continuing on its upward trajectory. That's confirmed by the recent House of Lords report which showed that the UK imported £2.7bn worth of veg in 2022, a 15 per cent increase from 2021.
The headline from the Lords' report is that the future of UK horticulture looks bleak as it is "under-prioritised and unappreciated". I couldn't agree more, but it grieves me to say that the report will probably go the same way as the Dimbleby report and be thrown on a shelf to gather dust by this zombie government.