Love British Food names Staffordshire food charity Farm Fresh Revolution as national community competition winner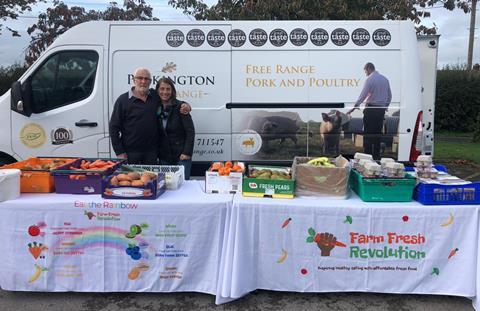 Love British Food yesterday (2 November) announced Farm Fresh Revolution as winner of its national 'community competition' held during British Food Fortnight, the organisation's annual celebration of British food.
Farm Fresh Revolution is a small food charity distributing high-quality fresh produce to schools and families in low socio-economic areas of Staffordshire, Love British Food said.
The cornerstone of this year's British Food Fortnight was the mantra 'good food available for all', and organiser Love British Food said it wanted to reward those who help make good food available for all in their communities.
A variety of organisations, charities, businesses and individuals entered the competition: schools, an NHS Trust, farm shops, charities, volunteer groups, Love British Food said.
But judges Liz Earle MBE, Emily Ashworth, Jenny Jeffries and Claire Mackenzie narrowed them down to one winner, two runners up and two 'highly commended'.
Commenting on the win, Farm Fresh Revolution's Rachel Sherratt said: "We're absolutely thrilled to have won this Love British Food competition. Our aim at Farm Fresh Revolution is to introduce families to the benefits of cooking tasty meals from nutrient dense ingredients.
"We distribute quality, fresh produce and easy-to-follow recipes via market-stalls set up at local primary schools, manned by an army of volunteers also passionate about creating great tasting food. We hope to make good food both accessible and affordable to all, buying British where we can and eating with the seasons."
Competition runners up were Somerset NHS and South Brockwells Farm. While Tilton Green Fair and The Cheshire Harvest 2023 were highly commended by British Food Fortnight judges.
Lead Judge Liz Earle said on Farm Fresh Revolution's win: "What a worthy winner. Love British Food set out to recognise community-driven efforts to help make good food available for all. Farm Fresh Revolution fulfils every criteria. Passionate, caring and dedicated people who are giving their time to help the less fortunate in their community. If every town had a Farm Fresh Revolution, families across the country would be in a far better place. I'm delighted that they will receive a small part of the recognition they deserve through winning the community competition, and hopefully will inspire others to follow in their footsteps!"
Love British Food was founded in 2002 and aims to encourage people to seek out British food when they are shopping or eating out in order to create a domestic market for British food that gives farmers and food producers the confidence to invest and develop their businesses.