Labour has written to government demanding clarity on new post-Brexit border controls after reports of their delay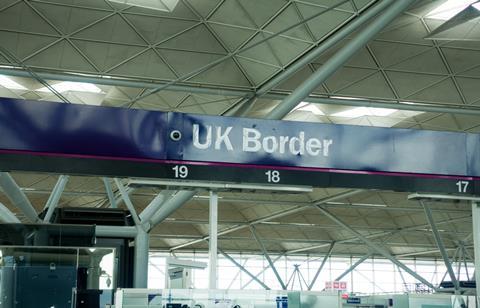 The government is under pressure to explain its plans for new post-Brexit border checks amid uncertainty about when they will be introduced.
The opposition Labour Party has written to business secretary Kemi Badenock demanding clarity on government plans, accusing her of "absolutely shambolic" and "chaotic" handling of the issue.
The new border controls – which are officially due to start from October – will affect fresh produce imports from the EU to the UK, with the Fresh Produce Consortium (FPC) predicting shortages and more price rises unless draft government proposals are revised.
But government ministers are yet to finalise the specifics of the revised Border Target Operating Model and have refused to confirm or deny reports earlier this month that the new system will be delayed for a fifth time.
A draft of the model – which includes a risk-based approach to conducting sanitary and phytosanitary (SPS) border checks – was published in April. The government was expected to have published the final version of the model earlier this summer following a period of public consultation.
But on 3 August, the Financial Times reported that the government was looking to delay the implementation of the model to January 2024. These reports have not been denied.
In a letter sent to the government today (23 August), Labour shadow international trade minister Gareth Thomas called the situation "absolutely shambolic".
"They have delayed new border checks time and again, creating huge uncertainty for businesses, who are already struggling as a result of Conservative economic mismanagement," he wrote.
"With the deadlines for new checks just months away, it is unacceptable that businesses have not received a clear update from the government on whether the new border arrangements are even going to be introduced. The Tories' trade barriers are stunting economic growth.
"Labour will turn this around as part of our mission to secure the highest sustained growth in the G7," Thomas added.
The FPC's Nigel Jenney told FPJ it had "no clear understanding" of when revised border controls would be published. "We are in a situation where there are some fundamental and over-arching issues that remain of major concern [to the fresh produce industry]. As an industry, we desperately want to know what new border controls will mean for us."
Marco Forgione, director general of the Institute of Export & International Trade (IOE&IT), agreed that traders "require certainty and clarity to be able to plan for the future", saying that the implementation of BTOM was a "key aspect of this".
A Cabinet Office official responded to the Labour Party's letter by telling Politico that it will be publishing the final version of BTOM "imminently".
A government spokesperson told FPJ: "The Government remains committed to delivering the best border in the world. The Border Target Operating Model is key to delivering this and introduces an innovative approach to importing that will be introduced progressively.
"We are reflecting on the valuable feedback provided by a range of businesses and industry stakeholders and will publish the Border Target Operating Model shortly."