Volumes of tomatoes, peppers and cucumbers bought at independent retailers rose last month amid concerns about product shortages at major supermarkets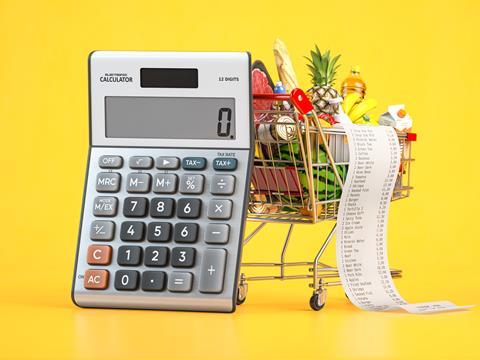 The battle for shoppers is heating up as grocery price inflation hits a new high, retail market analyst Kantar reveals.
Grocery price inflation has climbed again to reach 17.5 per cent over the four weeks to 19 March 2023: a new record based on Kantar's data.
Households are now facing an £837 increase in their annual bills if they don't change their shopping behaviours, the consultancy said. Take-home grocery sales more widely grew by 8.6 per cent over the 12 week period.
Fraser McKevitt, head of retail and consumer insight at Kantar, said: "Unfortunately, it's more bad news for the British public, who are experiencing the ninth month of double-digit grocery price inflation. However, shoppers are taking action and clearly hunting around for the best value. Footfall was up in every single grocer this month, with households going to the shops just over four times per week in March. Apart from Christmas, that's the highest frequency we've seen since the start of the pandemic.
"The supermarkets are also tackling grocery price inflation, battling it out to demonstrate value and get customers through their doors. This is a fiercely competitive sector and if people don't like the prices in one store they will go elsewhere, with consumers visiting three or more of the top 10 retailers in any given month on average," he said.
The availability of fresh fruit and vegetables was high on the agenda at the end of last month, but Kantar's latest data shows that shoppers didn't generally go without.
McKevitt said: "Despite concerns about shortages, the number of baskets containing tomatoes, cucumbers or peppers in the 10 major grocers stayed at 17 per cent in March, the same as February. For any shoppers who couldn't get what they wanted in larger supermarkets, the independents stepped in, with the volumes of tomatoes, peppers and cucumbers in baskets rising by 32 per cent, 26 per cent and 21 per cent respectively in these stores."
Across the retailers Lidl was the fastest growing supermarket as its sales rose by 25.8 per cent. It achieved a market share of 7.4 per cent. Aldi secured a new record market share this month at 9.9 per cent, driven by a 25.4 per cent increase in its sales.
Morrisons saw a welcome return to growth with sales rising by 0.1 per cent, giving it an 8.8 per cent market share. Waitrose also had a positive period, pushing up sales by 2.1 per cent to deliver the fastest rate of growth for the John Lewis Partnership owned supermarket since September 2021.
Asda's sales increased by 7.3 per cent, just ahead of both Tesco and Sainsbury's on 6.9 per cent. Tesco remains Britain's largest grocer with a 26.9 per cent share of the market, while Sainsbury's is on 14.8 per cent and Asda 14.3 per cent.
Frozen specialist Iceland performed strongly, increasing its market share to 2.3 per cent, up 0.1 percentage point as sales rose by 9.6 per cent. Convenience retailer Co-op now has a 5.7 per cent share and Ocado's market share remained at 1.8 per cent.