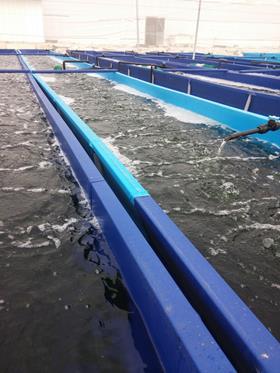 Israeli fresh produce supplier Arava Export Growers has launched a new range of organic seaweeds targeted at the UK and German retail markets.
Two varieties of seaweed – Ulva (also known as Sea Lettuce) and Gracilliria – are available in either loose or bulk formats, or packed in a 100g closed lid package.
Produced by the firms growing operation Seakura, the seaweed is grown in deep saltwater pools on the edge of the shore. The saltwater is pumped from deep water and then purified, Avara said, meaning it is free from heavy metals and other contaminants and ensuring its organic certification.
"We are currently negotiating this line with various retailers in the UK and in Germany," said Avara herbs sales manager, Omer Kamp.
With high levels of protein, iron and vitamin C, seaweed is highly nutritious and has a diverse culinary usage, Kamp added. It has a shelf-life of 18 days if kept at a temperature of between three and six degrees.
"A majority of chefs around the world have already started including seaweeds in their recipes," he said. "Not to mention, a growing number of households are always on the search for new ingredients that will make their plate healthier, tastier and more innovative."
Avara's seaweed is produced in Israel, and the company also has a depot in Holland.