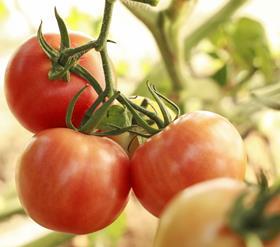 Syngenta has launched the world's first tomato variety resistant to the devastating tomato brown rugose fruit virus (ToBRFV), it was announced at Fruitnet's Global Tomato Congress.
The beef variety known as Lansor is the result of five years' intensive work from the breeding company and will be welcome news to tomato growers worldwide.
The virus, which is now present in the Middle East, Europe and the Americas, can cause crop losses of up to 70 per cent and damage fruit quality, spreading rapidly and proving highly persistent.
Also affecting sweet peppers, the main symptoms includemosaic patterning on leaves, brown necrotic streaks on stems, and brown wrinkled (rugose) patches on fruit.
Israel, where the virus originated in 2014, has been particularly hard hit, seeing yields fall by half, with resultant economic losses of 120 million NIS (£26m).
Dozens of small farms in Israel have faced financial collapse,and the sharp drop in yields has led to higher prices and unprecedented tomato imports, mainly from Turkey and Gaza.
Recently Israel became the first country in the world to begin growing the new variety, in greenhouses in the Negev region. Production will also begin in Greece, Cyprus and some other Mediteranean countries this year.
Lansor has 'intermediate' resistance to ToBFRV, with Syngenta's Ruud Kaagman explaining to GTC delegates that there is no official protocol to claim high resistance at this stage. "There is always a risk you will still see some symptoms on the plant, but the yield is there," he said.
Syngenta hopes production of the new variety in Israel will allow the country's tomato sector to expand to its former size and return to normal yields, necessitating far fewer imports.
Kaagman said Syngenta is going to continue launching new ToBFRV-resistant varieties every year across its 20+ breeding programmes. The breeder is targeting resistance in all segments of the tomato category and around the world, he added.
Syngenta's global tomato breeding lead Dr Pilar Checa explained that the use of "molecular markers" will allow the company to deploy the resistance it has identified in a large range of varieties.
"Before the utilisation of molecular markers, it could take up to 10 years to develop a resistant variety," he said. "With broad use of molecular technology, Syngenta can more accurately and quickly breed a resistant variety."
As a caveat to the positivity surrounding this varietal breakthrough, Kaagman warned that strict hygiene measures remain important for seed companies and producers.
"Growers must continue with careful hygiene measures even when using a resistant variety otherwise there's a risk the virus will mutate and come back," he said.